Tips on How to Move a Family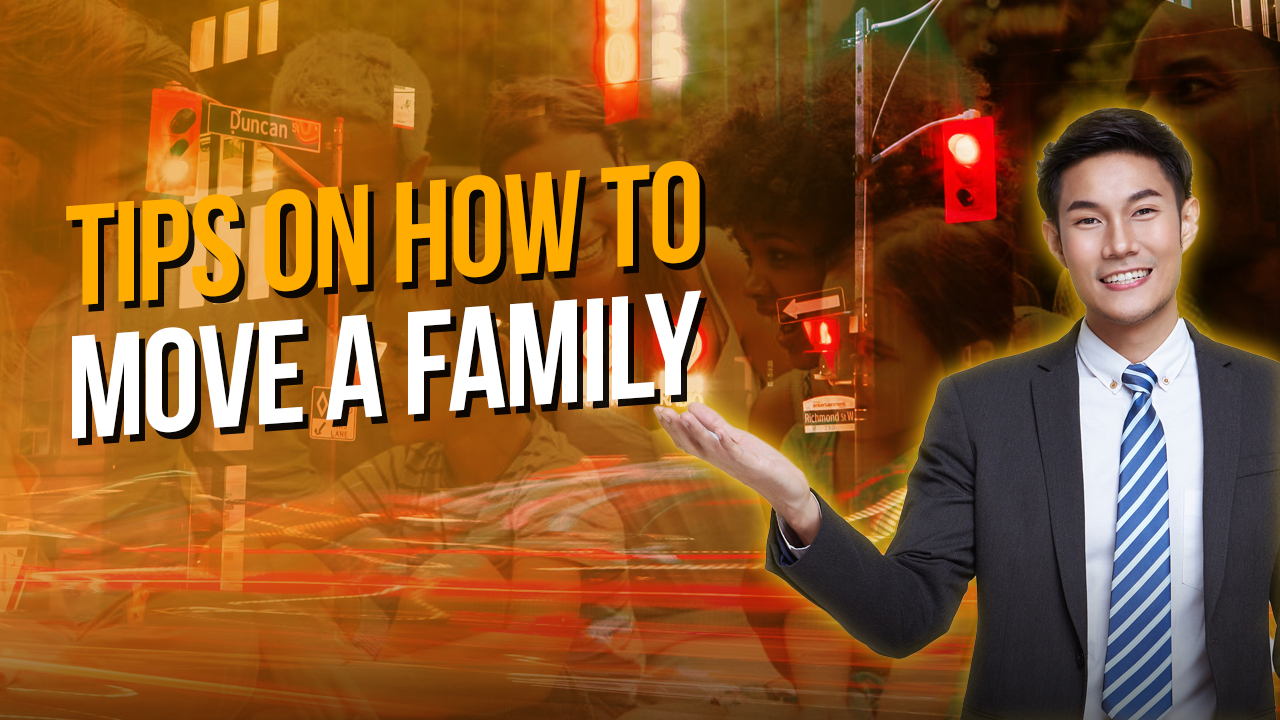 [mashshare]
The decision is made. You have accepted the promotion and narrowed down the list of potential new homes, and you have to move soon. Now comes the hardest part, you have to plan the move and tell your children. The feeling among children and adolescents is normally unfavorable when someone moves away even if you are just moving around the block. The people around you may not like change, but there are steps to make the transition easier. Your attitude about moving and wanting your children to experience something new will affect their feelings about the change. So if you want to know more about moving out then this blog is for you. 
For today's blog, exclusive for our Core members, we will be sharing with you our relocating tips that can help you understand the process so you can make a smooth and confident transition. When you decide to leave your current location for a new one, the process can feel overwhelming. When you move across town or across the country, you'll change more than your address. Besides looking for a new house, other things you might be looking for include schools, jobs, doctors' offices, restaurants, stores, and more. You need to pack, make arrangements for your move, and possibly sell your old house. With so much to do, you may be wondering: What should I do first? This step-by-step guide will help you get prepared, organized, and settled in your new community. The goal is to make the process more manageable so you can focus on the exciting adventure ahead!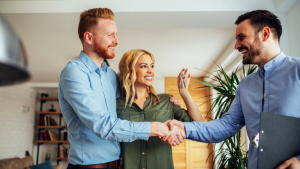 The first step is to gather information. To get an idea of what your new area is like, start by doing some research on it. Look for data on average housing prices and other demographics, as well as school rankings and crime statistics. Search for maps that illustrate the geography of the area you're moving to. If you are moving across the country, research climate and seasonal weather patterns. You can look at local newspapers and blogs to learn about political issues in your new community. You may also want to join online forums and Facebook groups that are relevant to your new area.
These platforms are great for finding information, asking questions, and getting an idea of the prevailing attitudes in your neighborhood. If you are going to relocate for a job, find out if your new employer offers any relocation assistance. This may come in the form of an employee from human resources, who is designated for this task, or a third party that does the relocation for them. Your employer may also be willing to cover some or all of your relocation and moving costs. When you gather or prompt this information up front, it will make your decisions easier down the road.
Once you've done your homework which is to research your new area, the next step is to identify your ideal neighborhoods. The first step is to prioritize your needs and wants. You should consider factors such as your budget and commute time when buying or renting a house. Aside from that, you should consider factors such as the quality of schools, crime rate, walkability, access to public transportation, and proximity to restaurants and shopping centers. To better understand a community, visit the area to see and feel what it's really like. If you feel comfortable, strike up conversations with local residents, and ask them about their experiences there. If you're still not sure which neighborhood is the best fit for you, contact a local real estate agent. This will be the quickest and most efficient way to find your dream neighborhood.
Now that you've likely narrowed down your list of preferred neighborhoods, it is time to start looking for a home. If you haven't contacted a real estate agent yet, now is the time! A realtor can help you find listings that meet your needs, typically at no cost. Create a list of "needs" and "wants," but this time for your new home. Include your expectations for square footage, bedrooms, and bathrooms, but also think about what other aspects are important to you and your family. An updated kitchen? A large backyard? Double sinks in the master bathroom? Put together a list of your favorite 10 homes and rank them from 1 to 10. Decisions can be difficult when there are so many features to consider.
But by prioritizing them, you can easily focus on the most important features. This will help you determine which features are the priority for your home search and which ones you are willing to sacrifice. To successfully buy a new home, you need to start the process of selling or renting your old one. A real estate agent can give you an understanding of the current market conditions and let you know how much equity you have in your current home to offer an idea of how much you can spend on a new one. Your agent can help you with the timing of your sale. If the buyer has enough cash available for two mortgages, then some agents will recommend it. However, many buyers don't have that cash and are forced to choose one or the other. These situations call for an agent to give advice on what will work best.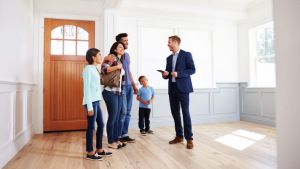 The next step is to prepare for your departure. While everyone considers packing a fundamental part of moving, we often overlook the emotional preparation that needs to take place. If you have children, this can be especially important. One key component to getting your children prepared is by communicating the move. Take them on a tour of the new home and neighborhood for them to see firsthand when it will be time for them to relocate. That way, some apprehension, and uncertainty can be alleviated before they start their new life in a new neighborhood. Allow yourself plenty of time for packing up the things you own. Before you start, gather supplies for packing such as boxes, tape, tissue paper, and bubble wrap.
Start by sorting non-essentials like off-season clothes or holiday decorations into four groups: take, trash, sell and donate or give away. To make unpacking easier, be sure to label the box with helpful information, including content, room, and special instructions. Keep a list of what goes where in a master inventory to refer back to any missing pieces. To get an accurate estimate of your final cost, it is essential to take the time to research and price different moving companies. It's also of importance to do a walkthrough with the company that you decide will move your stuff, so they can do a more accurate estimation of how much you will need to pay.
Working with a reputable company is key, and make sure not to pay a large deposit before you receive your shipment. If you are stopping over on your way to a new home, plan a route in advance and make arrangements for overnight accommodations. If driving is not an option, you may need to ship vehicles and make travel arrangements for yourself, your family, and your pets. If you will be leaving friends or family behind, get some of them together for a final goodbye before you leave. The last few days before quitting your residence can be very hectic, so make sure to account for that in advance by scheduling some time to get together with them.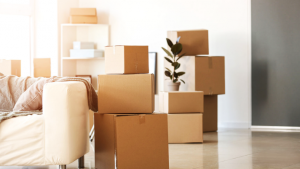 Next is to prepare for your arrival. To make your transition go smoothly, you should prepare for your arrival before moving day. Alternatively, if your belongings will take a while to arrive, consider arranging emergency accommodation while you wait. Get all the essentials ready in a box for the first few nights after moving to avoid stress after an exhausting day of packing. This includes toiletries, toilet paper, towels, linens, pajamas, and other essentials so that you can enjoy a better night's sleep and worry about unpacking tomorrow. You should arrange in advance for a set date to turn on your utilities, such as water, electricity, and gas before you move out. You should also update your address with all accounts and subscriptions, arrange your mail to be forwarded through the postal service, and have a shut-off date for your current utilities.
Until you can arrange for the transfer of necessary records, register your children for their new school or daycare and make arrangements for the move to their new residence. A good strategy, if you are planning on moving into a new house, is to do some of the work before moving in. Getting professional cleaners to come before you spend hours of your time cleaning is an efficient way to prepare. Another option is to keep a portion of your belongings in storage while you do remodeling, painting, or flooring jobs. If you are not hiring a moving company, consider buying necessary appliances ahead of time and arranging for delivery.
If you don't have window treatments installed before arriving at your new home, you need to put up a privacy film or install window coverings. Make sure the appliance you choose will adequately fit your space and doesn't require costly modifications to your new home. Measurements and installation instructions can be found showing what size appliances are compatible in a given location. If you're going to register your car and get a driver's license in the new town you'll be moving to, double check local requirements first. If public transportation will be your primary mode of getting around and you don't have a car, find out what schedules there are.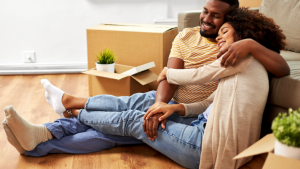 When looking at your new home, piles of boxes can be daunting. But it is an opportunity to make a fresh start. With a plan ahead of time, you can plan for what the layout should be and organize things so that it is an organized house. If you followed the suggestion in step five which is to pack an "essentials box", this should provide you with what you need to get through the first couple of nights of your new house. Doing that will allow you some breathing room while unpacking the rest of your belongings, which you can do more gradually. To help with transitioning to your new home, try unpacking up the items that are used on a daily basis first. Seeing their familiar items can help them establish comfort and normalcy during this time of change.
Bring your pet to their new home gradually, by first introducing them to a single room. Once they seem comfortable, introduce them to other rooms in the home. This should include their favorite toys, treats, food and water bowl, and a litterbox for cats. While unpacking, make a list of the items that need to be purchased. This way, you won't have to make multiple trips to the store. Start a list with needed repairs and installations and find out if your home is covered by a home warranty. You may be eager to unpack but it's important to enjoy your stay as well. Make sure you don't pack too much fun into one day and take some time off to relax and explore your new hometown!
The last step is to get involved in your new community. Studies show that moving can lead to feelings of loneliness and depression. In the aftermath, people are less likely to engage in social activities, more stressed, and less inclined to participate in hobbies or exercise as a way to battle the negative effects. First, get out and explore. Recent studies have shown that new movers are less likely to go outside, which leads to feelings of depression and loneliness. To combat this, you should get out and start exploring your neighborhood. Plus, if you like walking there's the added benefit of the fresh air and exercise it will give you! If you're feeling isolated, make an effort to meet new people.
The easiest way is by taking courses, joining a local interest group, and volunteering for a cause. Make sure not to wait around for friends to come to visit you, instead go out and meet them. Finally, be a good neighbor. Make an effort to introduce yourself to your new neighbors, invite them over for coffee or dinner, and offer assistance when they need it. Once you've developed friendships and a support system within your new neighborhood, it will help you feel at home in your new area.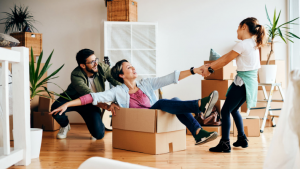 If you think that is it, we still have some moving out tips for you that will make the moving out process as anxiety-free as possible. 
Our first step is to have a family meeting. Arrange a family meeting to discuss the move. Gather around a table for a casual dinner and talk about the new environment. If you're moving because of better job opportunities or your promotion, tell your children that it's exciting and explain how it will change their life too. Express how you feel about your upcoming relocation. Talk to them about how they're feeling and what they expect. If this is their first time moving, they're still going to be anxious or worried. Let them know how you felt during your first move, and that you'll need their help for many jobs during the move like packing and settling in.
If possible, involve your children, especially if they're older, in the selection process of the new home. One way to involve children in the home-buying process is to have them talk about their feelings about each house. Get feedback from kids who are older, especially if they can drive, by taking them to see the homes. If you're moving to a new city and distance isn't a factor, show kids the photos of all houses you are considering, as well as the streets and other features of the neighborhoods. Ask your friends which three things they liked best about each potential house. Share these anonymously and let them know you'll use their feedback when making the final decision. Send your friends updates as the process progresses and have a celebration once you've found your new home.
Let the kids know that now is a great time to cut through the clutter. Throughout the house, there's bound to be a plethora of things that do not need to accompany you to your new home. Get the kids to help you go through the house, room by room, and identify what should go with you and what you could get rid of. While it is perfectly acceptable to keep certain things that hold important memories, unused items should be thoughtfully considered for the discard pile. You don't have to discard them though – you can sell them instead.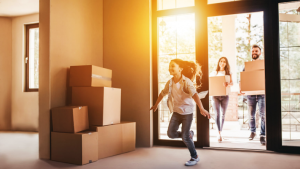 Once you've thought about everything you want to take along with what you want to get rid of, have the kids do the heavy lifting. This way they can help sort through it all, inventory and price it, and decide which items will go up for sale. Let them know that the proceeds from this effort are going back into the family's coffers. If you have a family meeting to decide what to sell, it's more likely the kids will be invested in the decision and help. Maybe they'll want a giant flat screen TV, or maybe they'll want a chocolate lab puppy. Whatever they say, they'll be more involved with organizing the sale.
Find out as much as possible about your new community. Share what's beneficial with your children. Don't make everything sound amazing, an honest and straightforward account will be most advantageous in the future. If you oversell things and create high expectations, there is more space for disappointment. Encourage your kids to research themselves. With your help, they can go online and find community and school websites as well as copies of local magazines and the weekend edition of the paper. By focusing on civic activities and other social communities, your kids will learn about events in town as well as their school and the sports related events.
If you're excited about the design of your home, have your children help create ideas for rooms together. Don't limit yourself to the child's room. If the child is interested in design and decorating, allow them to get involved with other rooms of the house. If you are planning to buy new furniture and the kids are interested, take them with you. Give teenagers a budget for their rooms, and let them pick colors, linens, and rugs. Encourage your child to shop at consignment stores. Younger kids can help in the process, from coming up with a budget to executing the vision. When it's all done, you can invite some family or friends over for an event like what happens on TV shows.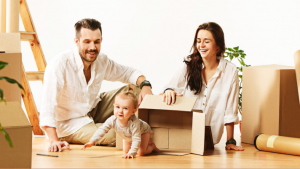 If it's possible, visit the new place with your children. If you are just moving across town, plan a walk-through of the house and then do a tour of the neighborhood. Afterward, visit the local branch of a public library and also each child's school. If you are moving to an extremely different location, it is still possible – even if you arrive a few days later than your belongings and stay in a hotel. Research your area and make arrangements to be in contact with your children's schools, the local library, and various community services including the area YMCA, community theater, or music school. Arrange a tour of where you'll be working too. 
One of the most difficult parts about moving as a child is saying goodbye to friends. You could lessen this anxiety by hosting a get-together with family, friends, and neighbors, where you call it a "See You Soon" party. You should make sure everyone exchanges contact information during the party and take photos together. Between text messages, e-mails, and phone calls, your kids should be able to maintain old friendships while transitioning to their new surroundings and meeting new friends. Depending on the distance of your move, you could speak with the parents of your children's friends about meeting halfway for a day visit or planning a weekend visit.
It is recommended to have a GPS, map, and atlas when moving to another town for those of us who are used to seeing the people we visit often. This can be helpful when you know that you'll be returning home to see them again. Having these things will let you know what there is to do in the area (such as sightseeing or activities) as well. You can use maps to help keep track of where you are going when driving in the car. This will make the trip go by more quickly and it will be more engaging for you and your kids. You should plan out routines that you take often, such as going from the house to school or the mall. Let your kids help by plotting these routes on a map.
It has been almost a week since you moved into your new home. You have been unpacking boxes steadily and now it is time to focus on settling in their new area. There is probably a guidebook for your city that can help keep your kids entertained. Assemble the events and grab some paint, so you can add that personal touch to your new home this weekend. You can go apple or strawberry picking near your new home. You can also hit the natural science museum, or hike, raft, or kayak in the nearby state park. Make sure to take your kids out and show them all that your new hometown has to offer. If they've grown close with some friends in your neighborhood or at school, encourage each child to bring a friend along on your outings.
That's it for this blog CORE Member. What do you think of the steps and tips we've shared? When are you going to start, if not today? Let us know in the comments below. And don't forget to subscribe to our channel, click the notification bell, and like this blog. If you think that we have delivered value please share this blog with one person. Just one share is enough for us, for you to show your appreciation for the commitment and hard work we all put together in creating this blog that teaches and helps you on your mission of building your own fortune. And you don't know that one share could go a long way. And keep in mind that no matter how many times you're going to read this blog, you won't see any results unless you take action. Goodbye and see you at the next one!
[mashshare]
---