The Importance of Floor Plans in Listings for Real Estate Agents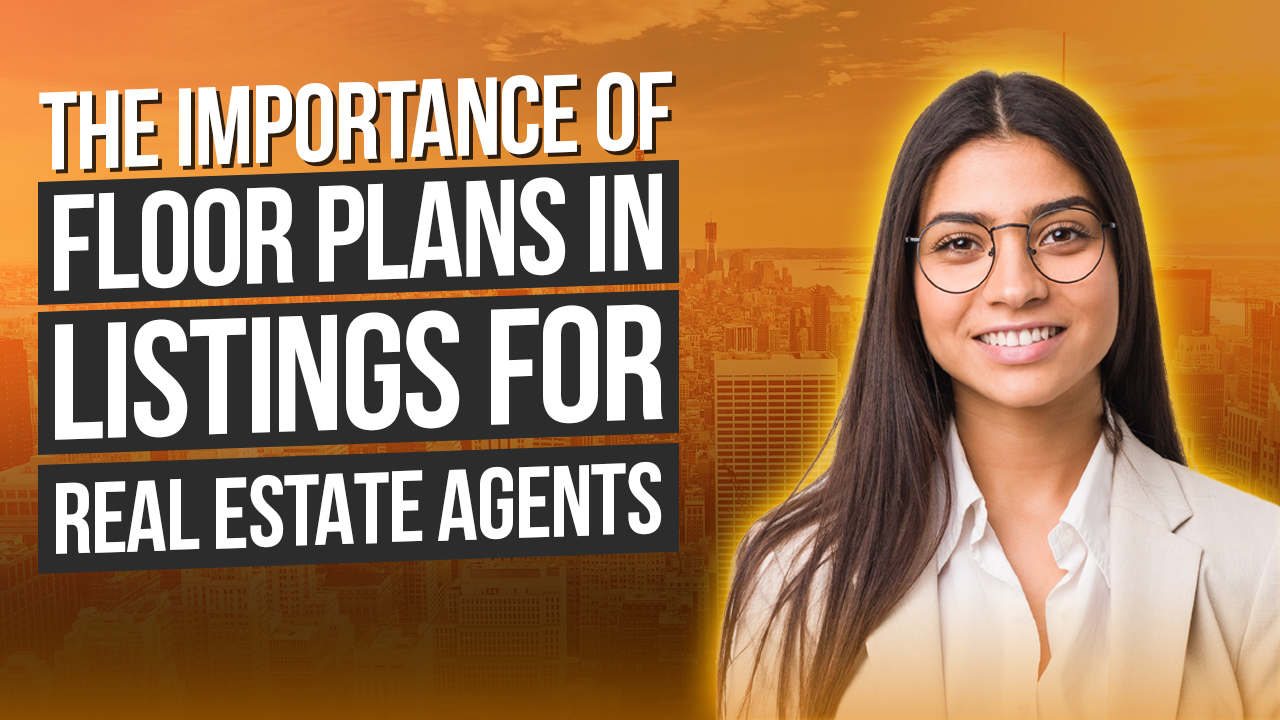 [mashshare]
Buying a new home can be a momentous occasion for homeowners. Choosing where to put down roots is an important venture, and buying a property comes with many levels of responsibilities for owners- especially when it comes to the visibility of the listing. For realtors, seeing their properties on online listings is essential because this gives them more access to more potential buyers who would otherwise not have had access.
However, being present and simply stating the features of a property will not do the trick. Developers must ensure their properties are well advertised by providing a relevant description and good photos. Adding floor plans should increase your sales rates manifold. 
Luckily for you, CORE Member, we've produced a list of how important floor plans are in listing for real estate agents. With this blog, you might consider providing floor plans in your next listings. Remember, that while the first step is completing any of these amazing courses, the second and possibly more important step is taking action even if it's imperfect action.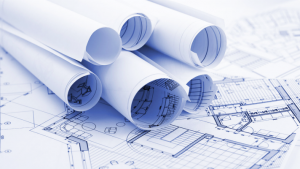 For most home listings, floor plans are not required, but they sure are helpful nonetheless. Potential buyers value visual information, and incorporating a plan into your listing means showing them what is for sale without having to produce extra marketing materials like photos or descriptions. These features help buyers locate their dream home quickly and seamlessly, and you may even sell a property sooner than anticipated.
A study from Rightmove reveals that 20% of consumers are more likely to ignore a listing without a floor plan. The average homeowner wants to see the exact layout and decision point of their home in detail, as this is a vital part of the listing. In contrast, homeowners rated floor plans as the third most important component on their list—behind competitive market information and pictures of the property itself.
With the help of floor plans, agents can streamline their marketing efforts and save time. As opposed to relying on conventional methods such as word documents, real estate agents will be able to use floor plans as a way to show buyers just how many bedrooms or bathrooms that home has. 
Now, here are reasons why including floor plans in listings is important.
Make your listing stand out
When preparing your listings in an attractive manner, ensure that the floor plans are both professional and detailed. They should clearly show the room number of each property, as well as each story with the floor plan of a multi-story building. Be sure to include details such as window locations, door locations, and stairwells.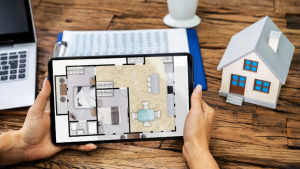 A floor plan can show the exterior features of a property; such as the size and location of the balcony or garden, and the measurements when shown on a scale. It is important that floor plans also show where certain features are located, like gas appliances or a shed.
Floor plans in 2D are organized in a way that it's easy to see the different rooms and their relationship with each other. Floor plans can be rendered in black and white, or in color, such as to highlight the different rooms like bathrooms versus bedrooms.
Your listing will stand out if you choose to list features such as 3D Floor Plans. With this extra benefit, your item gets exposure and buyers can click through your listing to view detailed dimensions, the exact paint color, furniture placement, etc.
The use of professional floor plans is a fantastic marketing tool for property owners, who can utilize this form on different platforms and social media channels.
Helps buyers to visualize the property
Real estate agents have long recognized the value of real estate photography. Home buyers generally want to see what a property looks like from the outside, yet this has often been overlooked by other homebuyers. However, more and more buyers are realizing that the true value of their home is in its construction—infrastructure cables and the like.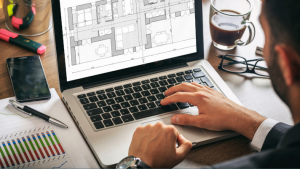 Just like what we've mentioned earlier, With floor plans, homeowners can find the size, layout and other "bones" of a home. Floor plans not only tell the homeowner how many bedrooms and bathrooms are located on the property, but it can also show them these details in an intuitive way that a photo cannot.
Floor plans show buyers concrete details that are difficult to get across with just photos and descriptions. They're also better at displaying unique selling features like knock-throughs and extensions. That's all information that could help a buyer decide if the property is right for them, or if it's worth viewing at all. Floor plans were created in order to display these specifics, which would have been difficult to see on a photo gallery or text description.
With a digital age, buyers may not want to wait for an open house before making a judgment and buying the home. Instead, they expect to get a good idea about the layout and amenities of your home through photographs, listing content, or other marketing materials. If a floor plan can give buyers enough information, all without going to the open house and committing money anywhere, why would anybody think otherwise?
Through visualizing the home, homeowners and real estate agents can save time. 
Successfully finding a home can be tough. People interested in buying a property often spend large amounts of time researching listings, checking prices, and going to viewings.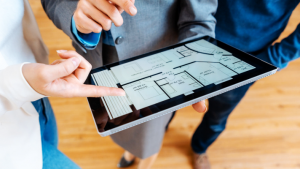 If your buyer is looking for a large stretch of balcony or a spacious dining room for a large dining table, floor plans can help save precious time.
High-quality property photos are imperative to selling a property. A wide angle shot might work well on social media, but some people feel this might not accurately portray the space of a property.
With a floor plan, potential buyers and tenants can see the entire property before they step in. By helping readers visualize spaces before imagining them, floor plans communicate the mood, feel, and spaces of the space with ease instead of leaving readers feeling like they missed out on something.
To show off an estate agent's best features, it's imperative that the agent cleans old photos and lets them shine with new ones. Messy rooms will always look messier than they are, so be sure to take before and after shots of any room you want potential buyers to see. Uncluttered rooms also give a better sense of size as they showcase the true potential of each area in the property.
A professional floor plan will not only help you avoid wasting time; it may also help speed up your sales process. By sorting through some of the less qualified visitors, a floor plan helps to narrow in potential buyers, creating a much more competitive situation that a buyer is more likely to make an offer.
Another thing is that they can mentally move in.
If a buyer is already imagining themselves living in a house, the estate agent has already done half their job.
Rightmove's survey suggests that buyers want to see the floor plan, and how the rooms connect to each other. But what buyers most value in a floor plan is how all the dimensions match up, with enough detail to help them visualize how they would arrange their furniture.
Drawing floor plans and window and door placements allow potential buyers to envision how their furniture will fit in their future homes and how you would use the space. They may even start thinking about decorating or how you would change the building to suit your needs.
Once they've started mentally planning the move, it isn't too far away before the property starts to have an emotional attachment and decision about buying it.
Shows sustainability of the place
A floor plan can be used to make the potential buyers understand whether a particular property will be suitable for their lifestyle and family. By showcasing clear home features, a floor plan provides the necessary insight on whether this home is more likely to fit your needs than another. This means that you don't need to convince prospects about the suitability of your property.
Appears as an affordable selling tool
If you are a real estate agent, your ultimate objectives would include selling a property quickly at a good price. With floor plans, you have this advantage as it is both a tool that can assist you in meeting these objectives. You can use tools to make professional-grade floor plans in minutes and they way they meet acceptable market standards; or you can pay for services such as drawing them on your own.
Promote a memory of your listing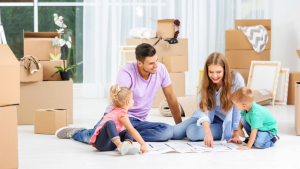 The prospective buyer will go through hundreds of listings when he is going to search for homes. The secret to success is being able to stand out from these listings to make the buyer remember you, despite seeing many more. With a great floor plan in place, your listing will leave a lasting memory in the buyer's mind. When the potential buyer remembers and recalls you, they would definitely be interested in considering buying your property as one of their options.
With the right technology in place, you can track prospects who view your property before and after they've made their decision. When prospects ask, "which house was that?" it's never a great sign; if you use the right technology, you can track who views your future home.
Remember that house hunters are looking at many properties at once, which means that they might have difficulty remembering the features of each house. Adding a floor plan to your listings and marketing materials helps it stick in the mind.
For anyone who is trying to sell a property, using a visual layout helps make it easier for potential customers to remember.
With this, viewing can be stress free. 
Though not always mentioned in the property listing, a floor plan can also help buyers make decisions post-viewing. For some people, viewing a property and talking directly to an estate agent might be daunting or stress inducing.
Seeing the layout and measurements of a property beforehand can help a buyer to decide whether or not they like the home more in a second visit. If they like it enough, this can be used to persuade them into buying it just before they leave.
Maximizes closing of deals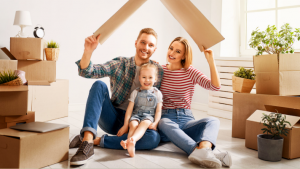 Some of the most impressive advances in the development of technology are related to floor plans. With these technologies, buyers can be completely immersed in a mental "move-in" to their new home. This creates a surreal image and further increases the chances of your house sale going through. It is faster for you as an agent because the buyer will be prepared and not so tired when they go house hunting, even if it's just been recently personally inspected by you.
Although many buyers want floor plans, not all real estate agents are offering them yet. Providing floor plans before your listings is a way to turn buying into an easier experience and help your listings stand out from the competition. Not only will you attract 20% of buyers who cannot use floor plans without buying, but you'll also increase their likelihood of staying on your website longer. Offering floor plans can increase buyer click-through by 52%, according to SmartDraw.
Showing a floor plan to your buyers offers them the ability to determine in minutes if a home is right for them. Not engaging with unqualified buyers allows you to focus on finding customers who are in earnest about purchasing a home, which provides value throughout the buying process.
If you want to receive more attention and provide buyers with even more information about your listings, consider using a 3D Virtual Tour.
Builds Emotional Connection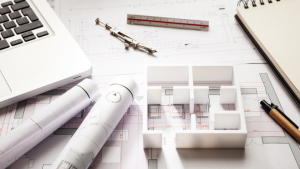 Potential buyers have the ability to feel an emotional connection with a property before even seeing it in person. This makes listings with floor plans more attractive than ones without.
We use photos and staging to try to show you a property in the best light. Yet, no photograph can truly be a blank canvas where buyers can begin to imagine the home in their own style with their belongings. A floor plan is that blank canvas.
Floor plans are a good alternative to homes which might not be perfect due to the furniture of someone else. They focus on design and floor plans, which allow buyers to plan the home perfectly.
With a helpful online tool, the master bedroom is big enough to fit their king-sized bed and they can find somewhere else to put their favorite console table. Floor plans help buyers visualize and get a sense of attachment to a property, inspiring them to make offers and even paying more for the property. The best floor plans will include an online measurement tool that allows buyers to check if their furniture will fit into specific areas eliminating guessing and further encouraging an emotional attachment to the property.
Keeps you ahead of the competition
The trends in the real estate industry have changed over the last decade and you cannot expect to succeed without changing with them. Having floor plans on your listings shows buyers that you're committed to, proving that your business values their needs. Displaying a complete floor plan makes your listing more attractive to buyers and coincides with what pops-up in what's trending. Due to the growing popularity of this newest trend, you cannot afford not to take advantage of it today.
Makes you look more professional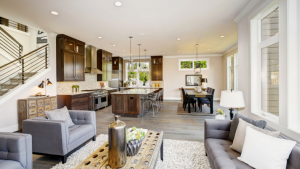 If your competitors are not on board with floor plans, you can use them to gain an advantage. Floor plans give you a market advantage when used selectively.
A clear, well-designed floor plan may be enough to put your listing at the top of the pile. By adding in a professional touch and detailing potential property elements, you show potential sellers that you are invested in your business and are willing to keep up with current property trends.
Homeowners are aware that buyers are seeking floor plans. Though 42% of sellers still won't hire an agent if they don't offer floor plans, the new technology has made it easier to provide floor plans for buyers which has become an expectation. Offering floor plans can benefit both parties by increasing your marketing efforts and saving you time.
Floor plans that offer retailers with a high value proposition can help businesses grow. To improve your business, you should consider using digital technology as this helps to make your business more attractive to potential buyers. Creating floor plans is perfect for digital agencies because it allows them to provide a valuable product that consumers seek.
That's it for this blog CORE Member, remember to subscribe to our channel and if you feel like we've delivered value please share this blog with ONE person. That's right just one person as a token of your appreciation for the hard work we put into making content that educates and helps you on your mission of building your own fortune. Remember you can read blog after blog, but it isn't until you actually take action that you'll start to see results. See you soon!
#floorplans #realestate #realestatelisting #collegeofrealestate
[mashshare]
---