Popular Color Palettes to Increase Your Home's Value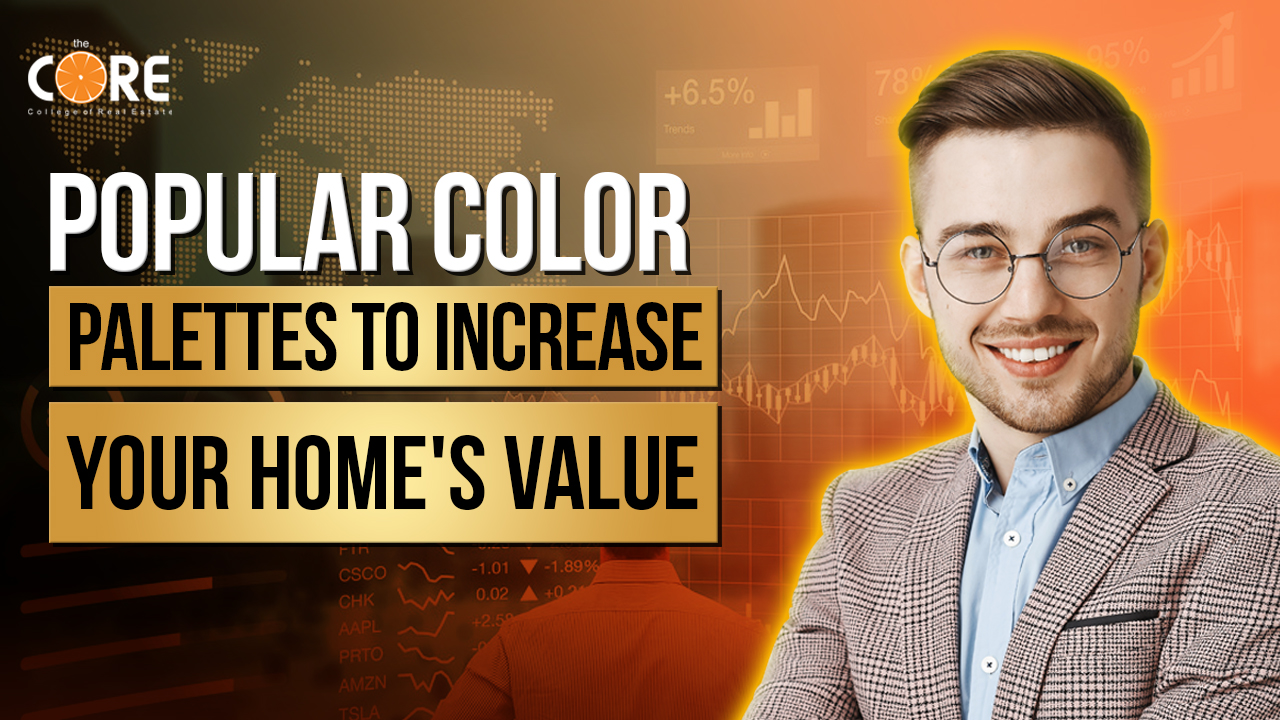 [mashshare]
Hello, people. Welcome to the CORE College of Real Estate Youtube channel. Traditionally, exterior paint colors haven't changed frequently. In recent years, though, more homeowners have been exploring different colors and trends.
Lisa Tharp, designer and creator of ECOS Paints' color collection − Lisa Tharp Colors − explains that because of the past few years of hardship, people are looking for joy in things they choose to do. This means giving yourself permission to choose colors that make them feel happier. "There is a greater need for celebrating what is good and letting go of decisions that, in the grand scheme of life, are not that important," according to Tharp. "This means injecting more joy into the colors one chooses, and even into the selection process itself." If you want more real estate content. CORE Member, subscribe to the CORE College of Real Estate Youtube channel and hit the notification bell.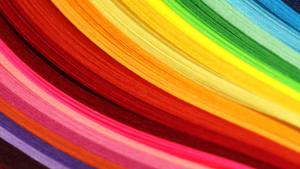 Nivara Xaykao from Benjamin Moore says that people have started to think of exteriors as an extension of the square footage of their houses. Often, this space can be improved with a touch of paint or colorful additions like doors. To learn more about trending paint colors, start watching this video. Homes are starting to move towards pastel colors that mimic natural tones in order to better blend in with their environments. Earthy browns and other warm neutrals make their way outside, too, with colors that mimic stone or clay, giving homes a natural look. Organic colors are the best for those homes surrounded by lush landscapes and prefer colors like Uber Umber, while cool colors such as mint green may be preferred in dryer climates.
Some major exterior trends this year include black exteriors that stand out against any home. Sue Wadden, director of color marketing at Sherwin-Williams, says that people are gravitating toward black as a surprising and modern look with powers to make any house look more modern. If you're worried about painting your entire exterior, Sherwin-Williams has two other shades of brown that suit the environment, Iron Ore or Urbane Bronze. They also work as a focal point on a front door or shutter.
Modern homes are now experimenting with dark colors, such as Slate Roof by ECOS Paints. According to Tharp, "We are having such fun testing accent colors for the front door, including the rich warmth of Ochre or the bronzy-green Sculpture Garden." Xaykao is also seeing a boom in charcoal exteriors this year. "For the more adventurous (and if their location allows it), dark hues are bringing a stylish edge to the body of homes, from charcoal to navy," she stated.
Today, people are looking for more subdued hues rather than bright whites. Farrow & Ball's Shaded White has a gentle green undertone, which is less sharp and looks sophisticated when paired with dark tones like Studio Green. O'Donnell lists green shades as a go-to for homeowners in 2022, and he says that it's a nod to nature, and how refreshing and inspiring it can be. He also explains that brighter exterior shades make greenery look more impactful. Other beautiful green colors you might want to try out include Pewter Green by Sherwin Williams, Backwoods by Benjamin Moore, and Farrow & Ball's Studio Green.
If you find darker greens more appealing, Tharp recommends Tree Moss, Dried Basil, and Nantucket Gray. She also adds that this interest started last year with the return of nature-inspired hues. Farrow & Ball's Inchyra Blue is another traditional gesture towards the style of Newburyport, but more modern and atypical in color. Another option for those is Naval, a bright navy blue. The "quiet revolution" is not just limited to different paint colors, but can include using black as the color of your home's exterior. Monochromatic paint plays a role in the color trend, and so is the exterior of your home. A light entrance door can draw attention to your architecture differently than it would with darker siding and trim.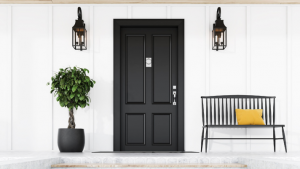 Painting your front door can be an easy and quick way to update your exterior, in just a few hours. Wadden advises that you can do so by painting it to represent Oceanside or Begonia. This year, you can use a door's color to show your personality and make a statement. O'Donnell recommends choosing from colors such as Lake Red or Stone Blue. Accent colors for homes with dark siding should be intriguing and not shown elsewhere in the home. Consider a few non-traditional shades to freshen up a house. Use pastel colors such as pink and baby blue to create a lively effect on the exterior of your home.
Hiring a professional may be your best option if you're in need of an exterior paint job. Consider the following tips before you get up to speed and get started with the task. Select colors for your exterior that complement your neighbors, but don't match exactly. If the people next door picked blue and red, choose green or orange instead.
Allow weather conditions to determine the time of year when you paint. Low temperatures, high humidity, and rain can ruin a fresh painting. Make sure to plan around the weather forecast when painting to avoid uncomfortable temperatures and high humidity. When selecting paint, pay attention to the surface and select brushes designed for the specific surfaces. Xaykao suggests picking the best quality possible to ensure a professional-looking finish. This is Xaykao's advice: make sure the surface is clean and dry, and it should also be dull. Start on the shaded side of the house and apply two coats to save money on paint.
If you have time to paint your house before selling it, it would be a great idea. Cheap painting is able to make as big an impact on what attracts interest in your home as more pricey methods. Interior and exterior paint jobs require different considerations, so they each deserve their own consideration. Interior paint jobs are usually cheaper because they're fairly simple, and you may only have to paint a couple of rooms.
Typically, painting the exterior of your home is more expensive because it's time-consuming and intricate. As a result, most people have to hire professionals for this task. In some areas, competition among buyers is so steep they sell within days of being listed, whether the paint has been touched or not. In cooler markets, it may be a smart move to paint your home. This will draw in potential buyers who want their choice of homes and make your home stand out among the competition.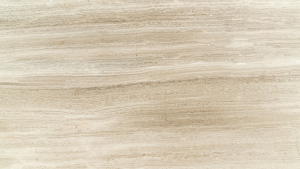 It is almost always a good idea for home sellers to opt for light tones. Creative color palettes are always fun to experiment with, but sometimes boring colors can have their place. You are trying to cater to the largest possible audience, not your own preferences. Dark homes make them feel small and stuffy, which will deter buyers from buying. A vibrant or inconsistent scheme also impedes buyers from incorporating their own style into the space.
Light home color schemes make your home feel open and spacious so that prospective buyers will be more attracted to it. Fast and easy is the name of the game when designing for an eCommerce company. Having less to deal with in the design makes it simpler and easier to create items quicker. It might be tempting to follow a trendy design, but in most cases, following tried-and-true advice will be the most efficient.
There are many innovative ways to design an interior color scheme, but the most effective is to stick with a traditional choice. If you're the seller, you'll want to keep things simple, saving time and money. Keep your home appealing by keeping it simple. We recommend using a simple 3-color scheme because it's easy to achieve and looks great in any room.
Each home is unique, so make sure you choose colors according to the design. Get advice from the experts in your area, who may be able to share their experience and knowledge. Zillow and Realtor.com are sites with great information on properties in your area. Be sure to take a look at these listings as cornerstones for interior paint design trends and exterior design trends in the latest models of houses.
Neutral colors help keep a room feeling open and airy. We recommend getting a flat or semi-gloss paint since it's less expensive and offers the same benefits. Though high-gloss and eggshell paints are the most durable, never lose sight of the goal. A house only needs to look good for a few months, and often buyers will repaint their newly-purchased home after they move in.
Choosing the right color for your room depends on things like the color of the adjacent walls, or what paint is already on the walls. White is a very popular color choice, but if you're looking to add some color to your kitchen, white cabinets and walls may not be the best halfway point. However, if you want to bring out character with exposed brick, think twice before painting it gray. Your agent and/or contractor can provide guidance on how to prepare different areas of your home and what to expect in specific situations.
Even if the paint on your walls and ceilings seems "ok," it may make sense to repaint them anyhow. If you paint the walls but not the ceilings, they'll look tiring and unprofessional. Make sure to paint the ceiling, too, so your whole house has a uniform look. In addition, painting your ceiling can be cheap, quick to do, and can cover any paint marks on the walls if they are not properly covered.
Which type of trim should you use in your home? Semi-gloss white. A glossy finish will contrast the matte wall, providing interest to the room without being overwhelming. Consider alternative colors if your space is limited, a messy room, or if there's already white in the area.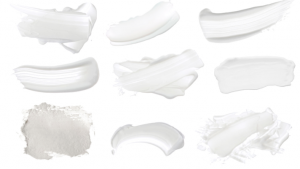 For example, you may want to create the contrast of an off-white or gray trim on a pure white wall. Trim can be found in many sizes, including three-inch baseboard to 36-inch chair rail to crown molding. You may want to use an extra splash of color on the trim for intricate carvings or routed edges on the project. Your agent or painter can give you an opinion about what type of paint will suit your walls.
Painting projects typically cost $1,000-$3,000. Painting the entire interior with a contractor could cost up to $4,000-$11,000, depending on the size and quality of your home. If you go the DIY route, the average cost will typically be $1,800. Painting your home might look better on paper, but it is usually not the best choice if you want to sell.
In order to be able to sell your house quickly and make the most profit, the two most important features to have are speed and quality. In order to provide the best service, professional painters will take the job done faster and make it look even better. As skilled as you may think you are, they are much more so. Some pros, painters, in particular, can give you a cost break because they have accounts with suppliers for costs passed on to their customers.
Professionals will get the job done efficiently and without mistakes. You can reduce labor costs by doing some prep work yourself in advance. For example, most painters charge per hour. You save your painters time by having them shift furniture and clear the space before they start work.
HomeAdvisor will connect you to the top local painters free of charge. Dark and/or inconsistent paint schemes usually make rooms feel stuffy and cramped. To mask dark colors, use a primer and follow up with light paint. This will ensure that the dark color does not show through.
Old houses often have outdated features that give them a dated and unattractive look. With one simple touch, painting your dated kitchen cabinets white can transform the appearance of your old house. Smoke causes unpleasant smells to be left on the walls, which can turn off potential buyers. There is paint that can help you to remove odors after they happen. You can apply it before applying your new coat of paint.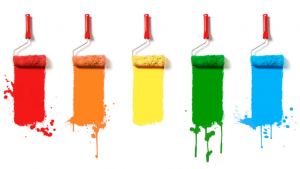 You want to sell your house, but it needs to be painted before you list photos. You can save time and minimize prep work by getting an all-in-one paint and primer that dries quickly. Stained and peeling paint can be a major inconvenience. However, for more extensive repairs, like fixing drywall, you will have to hire a handyman. Minor patches can be repaired with spackling.
A fresh coat of paint can attract more prospective buyers to your home. Slap a new coat on your house to encourage selling. It is important to consider the following factors when deciding on an exterior color: The style of the house up for sale, the latest color trends in your area, the hottest exterior colors in 2022, and exterior materials and features. 
Consumers Reports' general color picks can be good for what trends are happening in design, but the best choice is up to you and your home needs. Selecting a trendy color for your home can help make it stand out, but don't be too generic. Choosing different colors from other houses on your block will make your home stand out. Playing it safe means choosing conventional colors when it comes to selling a house.
For a Victorian-style home, homeowners can use dramatic colors like yellows, bright pinks, and reds to make their houses stand out. White trim is traditional, but contrasting trim colors that complement these vibrant hues are also acceptable. For mid-century modern, use interesting colors, like orange and green, against the stone or brick facade to create a mid-century modern design. Good colors for your Cape Cod-style home are soft white, gray, light blue, or neutral sand. Trim is usually white, but if you want to add some more dynamism, you can try shutters in the colors of earthy greens or ocean blues. Ranch-style homes work best with earthy, warm colors like brown and beige. You can contrast this natural exterior by including eye-catching pops of different colors, like bright red. For a bungalow, go with traditional colors like white, gray, or taupe. If you want to modernize your outer appearance, try deep blue, sage green, or yellow. Generally, create contrast with trim elements by choosing dark trim for light siding and vice versa.
That's it for this blog CORE Member, remember to subscribe to our channel and if you feel like we've delivered value please share this blog with ONE person. That's right just one person as a token of your appreciation for the hard work we put into making content that educates and helps you on your mission of building your own fortune. Remember you can read blog after blog, but it isn't until you actually take action that you'll start to see results. See you soon!
[mashshare]
---