Is a Career in Real Estate Right For You?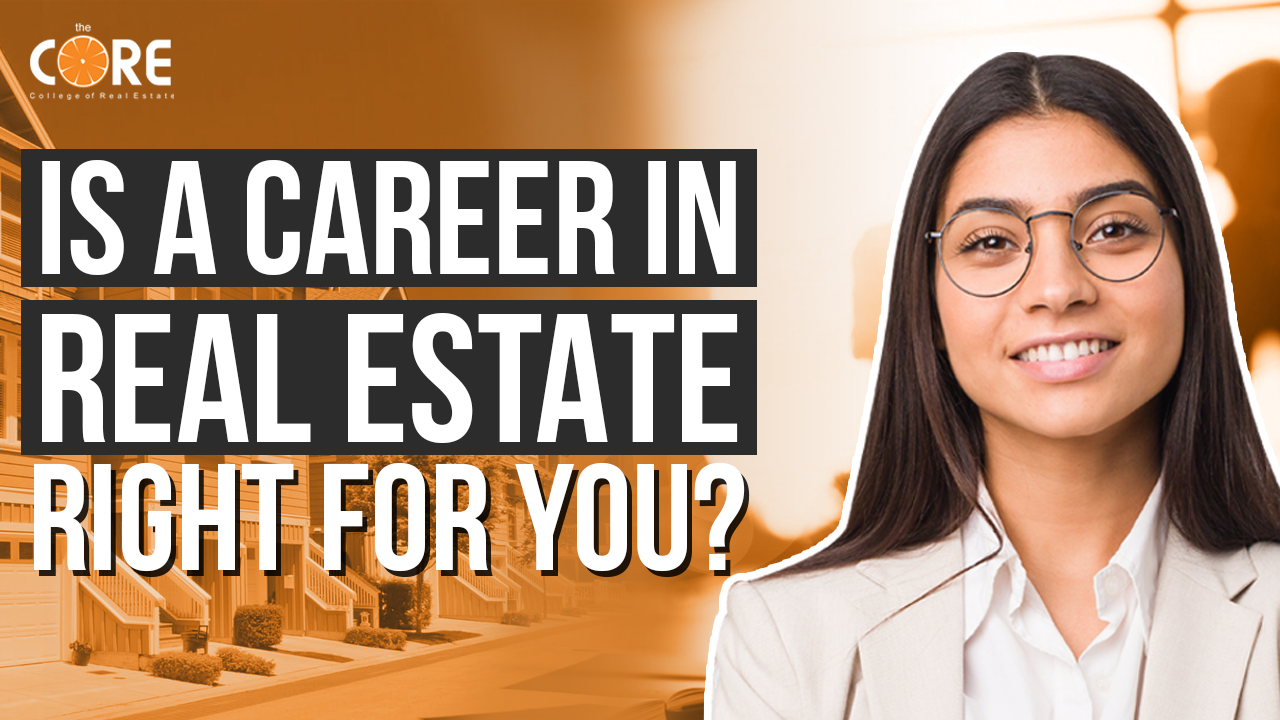 [mashshare]
Hello, people. Welcome to the CORE College of Real Estate Youtube channel. If you're looking for a way to earn extra money or change careers, many people have considered working in real estate as a new profession. 
In fact, CORE member, The New York Times publishes that the most searched for job from January 2020 to January 2021 was "how to become a real estate agent."3 In 2017 there were an estimated 3 million active licensed realtors. If you want more of this real estate content, subscribe to the CORE College of Real Estate Youtube channel and hit the notification bell.
Compared to other careers with similar earnings potential, it's relatively easy to become a real estate agent or broker. There are some perks of this career, like being your own boss, meeting new people, and helping people through one of life's biggest milestones. It's still worth considering the job in depth before you decide to pursue the career. Here is a closer look at the job to help you decide if a career as a real estate agent or broker is right for you.
Working as a real estate agent or broker can be fulfilling and financially rewarding, but it's not easy. Most work comes from within for this field.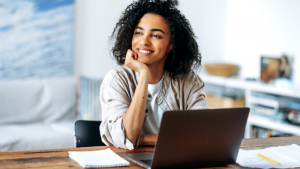 Career in real estate is a demanding job with substantial hours. The responsibilities include marketing yourself, booking appointments, controlling finance and human resources, sending out paperwork and more.
If you're a real estate agent, there's the potential of not getting paid.
Real estate agents and brokers help their clients buy, sell, and rent properties. However, according to the Bureau of Labor Statistics (BLS), the number of real estate agent and broker jobs is projected to increase by 4% between 2020 and 2030. This is slower than the average for all occupations.
Although jobs in real estate have always been relevant and necessary due to the changes of the market, there are still going to be those who require experts. The BLS notes that there will be a need for this profession as the real estate field continues to grow.
One of the pros of this career choice is that you can set your own hours, be your own boss and see substantial earnings. Those who enjoy selling and meeting people may feel engaged.
Earning a living as an agent for real estate isn't easy with all the paperwork, administrative tasks, and meeting time inherent in multiple listing. You can go without pay during period of time, because the work is based on commissions. If the agent doesn't sell houses, they don't make any money.
The key to success as a real-estate agent is starting with a license, which is easy to obtain. But it's hard work to bring in an income, just like any other job. In most cases, you must make a substantial commitment of time and even money.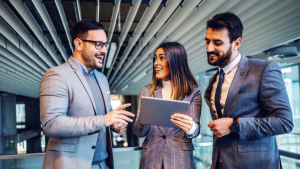 Managing a high workload and busy schedules is typical for many sales agents or brokers. They typically have to handle tasks such as coordinating legal documents or events for multiple listings.
If you don't have the budget to hire help, you'll probably have to do them yourself. With more and more technology available, it might be an option to hire a freelancer or part-time assistant.
Are you detail-oriented and good with paperwork? Do you have the organizational skills and drive to handle multiple tasks on a tight deadline?
Getting new clients is central to your success as a sales agent or broker. After all, without buyers and sellers there would be no transactions and, therefore, no commissions. One common way to build contacts and generate leads is through a real estate sphere of influence (SOI) strategy is by making use of people you already know, including your:
Family
Friends
Neighbors
Classmates
Business associates
Other social contacts
You will need to be a people person and stay in touch with consumers. This starts when you make first contact and means, after all the deals are made, you'll need to follow up with the minimal methods that best suit your audience.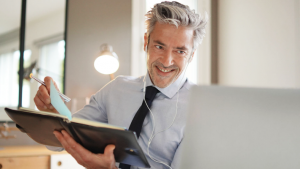 Because everyone owns property at some point in their lives, anyone you meet may need to buy, sell, or rent property sooner or later. Do you feel comfortable drumming up business? Are you willing to pitch yourself and your family and friends?
Working with clients means sacrificing time you might spend with family and friends. The flexibility of this position means you could be asked to drop everything for a last minute project that might require a cancellation.
Sellers and their agents face many challenges in selling properties. Presentation readiness and listing services are services that are often provided for a seller's agent. This includes things such as going through property photos, staging the home from what it looks like from the front of the house, marketing the property to get potential buyers' attention and hosting open houses.
You can use the MLS to look for homes listed in your area, accompany your clients to inspections, meetings with loan officers, closings, and other activities that require you to be present. You may spend lots of time screening listings to find a suitable home for your buyer.
Can you maintain enthusiasm and professionalism as a part of your job, even when your client is difficult?
Some cities and states don't have real estate licensure standards. Search for information on your state, or the Association of Real Estate License Law Officials' website directory, to find more information about how to get licensed.
When you start a real estate agent job, you are bound by a real estate broker. When you get your license, your job can be done independently with the hiring power of being a broker. Useful bits: Real estate agents always work under the umbrella of an experienced real estate broker. To become licensed and work on your own, it adds to the requirements to acquire experience and education.
In most cases, you can expect to spend about two to five months completing school, and get your real estate license. And you'll need some cash, too. Between the course, application fee, fingerprint/background check, and exam, it's likely you'll want to budget anywhere from $550 to $1400.
Real estate agents, brokers, and other industry professionals who are members of the National Association of Realtors (NAR) can only be called Realtor. They must also pay an annual membership fee and subscribe to the strict Code of Ethics from NAR.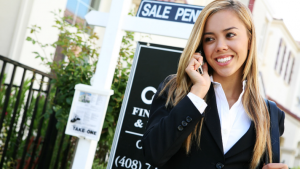 It is important that you weigh your time and money as there are caveats of getting a license in real estate.
Most real estate agents and brokers don't earn a salary. Instead, they make money when they sell assets or homes by getting a percentage of the selling price of the property, or less frequently, getting a flat fee.
In general, commissions are paid only once work is completed. Therefore, it's feast or famine. Other commission-based jobs experience this as well.
The average annual pay for real estate agents is $62,010.12.
You don't get to keep all the commission because other brokers are typically involved and split the fee. Typically, in a real estate transaction, the agents are usually paid out of 4-5% commission.
In this instance, the agent making the listing gets the full $12,000 commission on a home sale.
Are you prepared to sacrifice your nights and weekends indefinitely in order to stay successful? Do you have the financial reserves to support yourself for weeks or months without a paycheck? Though many real estate agents and brokers work part time, the most successful ones are available whenever their clients need them—whether that's during business hours, evenings, or weekends. Are you prepared for such an uncertain income?
While every state has its own specific requirements to earn a real estate license, the most time-consuming requirement is prelicensing education. And every state varies in the number of required education hours. California, for instance, requires 150 hours of prelicensing education for a residential license. Depending on the time you are able to dedicate, online or home-study courses may take less time.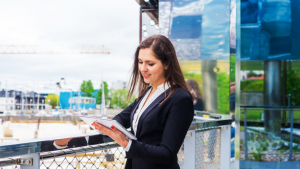 Whether you are a licensed agent or just starting out, there can be several expenses for the first few years of work. The costs of education and exam fees, along with licensing application fees, fingerprinting fees, and marketing costs may become necessary.
Each state has specific requirements for keeping your credentials up to date. The license renewal period can vary based on the type of license received. Real estate professionals in New Hampshire typically renew their licenses every two years, while those in California have four-year licensing periods.
Real estate commissions and boards across the country are adopting policies for a real estate agent in one state to more easily become licensed in another state. Online, you can check to see if your state has entered into reciprocity agreements with other states. The Connecticut Real Estate Commission, for example, has entered into reciprocal agreements with 13 other states including: Alabama, Colorado, Florida, Massachusetts and Oklahoma.
If you enjoy the work and are disciplined, this could be the career for you. In fact, you can earn a living very comfortably.
A career in real estate can be both challenging and financially rewarding. One of the many different possibilities for people who want to work in it is either being an agent, an estimator or a broker. If you're interested in residential properties exclusively, you might prefer to work as a residential agent or if you're more interested in commercial buildings, you might want to work as a commercial appraiser, property broker, or investment professional.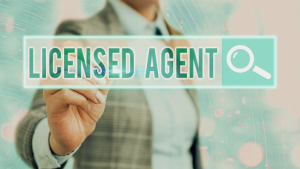 Given a strong motivation and good social skills, real estate careers are hard to resist for many. Loves those new customers!
Some reasons why you should consider pursuing a career as a real-estate agent include: owning your own business, being part of the local community, and having control over how much work you do.
For someone to be successful in the real estate industry, they must have a well-defined set of skills. Real estate agents would typically use these skills to specialize in certain areas of realty.
Sales agents who tend to be emotionally invested in their work offer a competitive advantage. But professional success can be challenging, especially when you are meeting with the customer face-to-face.
It is exciting that improvements in one's people skills can be learned. There are tons of books, videos, and classes for people learning to improve their people skills. Although some might not be expensive or free, they are easily accessible and range from free to thousands of dollars. For those that struggle to influence their buyers, the context is an important skill and should be time-managed while working on their real estate agent license. Although it doesn't require formal education, getting educated in people skills can always enhance ones ability.
Even with a lot of experience in the field, people skills mean constantly learning new tactics. People skills are critical to the business and must be developed constantly.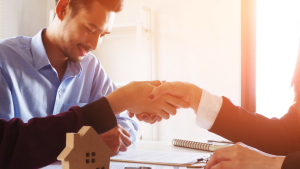 Real estate is great for those that use sales experience to card houses or property, but it can be hard for some people when they are not paid based on commissions. However, for those with a knack for selling houses, it can easily come to them.
With careers that require a great work ethic, such as real estate agents, agents are required to work hard and often remain on their feet for long periods of time.
In real estate, having an agent is crucial for those who want to own a piece of the market. The agent does not need to do any actual work, but is heavily involved in the process. A lack of work ethic makes it difficult for agents to succeed. Many new agents have failed due to this reason, which hurts the local real estate market.
It's not easy to learn how to work on your own schedule, but many writers have been forced to adjust to this style and find they like it more.
No matter what you do, whether you want to spend your time working for yourself or not, there are many ways for you to succeed. If you're looking for a guide on how to get ahead in the online world, just keep trying new things and keeping yourself as busy as possible.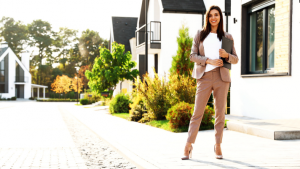 The profession of real estate agents demands a lot from its members. It also demands customer service and excellent results in almost every conceivable category. Real estate agents must be tactful (yet firm) with their clients and work hard to reach their potential.
Virtual reality, drone photography, and 3D modeling are growing quickly while it is more important than ever for real estate agents to stay on the cutting-edge of these areas.
Real estate agents either need to have great connections or get the right tools to reach their consumers; it's as simple as that.
The lifestyle of a real estate agent is different than most jobs. They have less commitment and accountability than a desk job. Real estate agents choose their own schedule, which appeals to many people.
The schedule of being a real estate agent can be difficult for someone who is used to the standard 9-5.
An experienced real estate agent recommends that you forgo the traditional hour long, one on one focus and instead work in a way to maximize your time. This strategy leaves room for an optimistic turnout, which can mean greater success.
They don't just hand out licenses, there are things they need you to learn and do to be successful.
The success of a real estate agent depends on how hard you work and how much effort you put into your business. By being an independent contractor, agents have the same mentality as small business owners.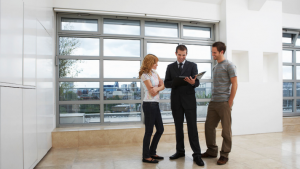 As an entrepreneur, you have a different lifestyle than most. Most people think you're just sitting around while everybody else works for you. That's not the case, in fact, it means that you will have to work harder than your competition to ensure success.
If you are looking to change careers, your life will be different than any other job you may have had before. The best thing you can do is shadow a successful real estate agent so that you can understand what it is like and make an informed decision on what the move would be worth. Even if you already work in real estate, it is highly recommended that you go spend time with a successful agent as your own skills will develop appreciably through this means.
It is important to note that if you are a sole proprietorship and own 100% of the business assets, you will be treated like a business entity. This means that you will have to keep track and report your income each year and this usually means paying taxes. It is important to store money away each year so that you can pay taxes in the spring of every year.
That's it for this video CORE Member, remember to subscribe to our channel and if you feel like we've delivered value please share this video with ONE person. That's right just one person as a token of your appreciation for the hard work we put into making content that educates and helps you on your mission of building your own fortune. Remember you can watch video after video, but it isn't until you actually take action that you'll start to see results. See you soon!
[mashshare]
---