How to get people to notice your real estate listings
[mashshare]
You've got a house to sell, and you've listed it. Now what? The National Association of Realtors points out that a total of 5,250,000 pre-existing homes were sold in 2015. They also noted that 510,000 new homes were built last year as well. With an abundance of listings on the market, homeowners may feel that they're drowned out by all the other noise. It's challenging to advertise your business in a way that will make it stick. If you've been in the real estate business for a while, you can easily generate listings. Or just about. Real estate agents fill listings with their information, taking into account the layout, size, and features. They then add a couple of photos to allow potential buyers to get a sense of it as well. Are they turning a for-sale house into a must-click listing? That's what you need to know. So if you want to know more about this, then this blog is for you.
For today's blog, exclusive for our Core members, we will be talking about how you can get people to notice your real estate listings. The qualities of a property that might appeal to buyers more often have a higher chance of being sold as compared to other properties. This is because, in the business industry, marketing teams are trying to grab the attention of an audience with content; in a similar way, realtors are putting more emphasis on the details of a property when presenting it to potential buyers. If you want to make a sale, you should invest in capturing attention on your property.
Houses and apartments with more inviting aspects usually come with higher returns for realtors and satisfying deals for the buyer. Developing a real estate listing that satisfies the buyer on emotional and professional grounds takes a lot of effort. People aren't going to be emotionally connected to your listings unless you are providing quality service. Agents of the new age are interested in learning how to improve listings, making them stand out amongst their competitors. Real estate agents should not be afraid of marketing their properties. There are various resources for them to get their client's property in front of the relevant audience. Realtors should utilize these resources to the fullest so that potential buyers are informed and interested in buying property. Marketing your listing may sound intimidating and time-consuming, but it's not impossible! Here are tips you can take to get your listing noticed!
First is to level up your photography. Unless it's really bad, the photography used in most listings feels pretty average. To get attention, use unique photography. Architecture and Design Photography has a varied point of view and diverse shots to create an immersive feeling for the viewer and give them a multifaceted story about your listing. Include some close-ups of your interesting details or elements that help set the scene. For example, if you are featuring a home backing onto a golf course, then take a shot of a golf bag leaning up against the back gate.
It is no wonder that breathtaking photos get noticed and loved by all.  Whether it is a residential or commercial space, you can make a great impression by having next-level photos. To ensure that your listing is seen, a photo capturing the beauty of an extravagant backyard pool or luxurious kitchen will attract attention. To get high-quality images for your blog, use a good camera along with artificial lighting if needed. Consider learning some professional shooting techniques if you don't have much time to take classes on it. If that sounds too much, hire a professional photographer.
Next is to change your writing style. When you write a listing, you're essentially writing an advertisement. And hey, most real estate agents don't have a side hustle as a copywriter. But that doesn't mean your listing descriptions can't shine. Change your writing approach. Take cues from screenwriting or storytelling – "show, don't tell!" Switch up your voice and tone, or try using some new real estate descriptions instead of your tried-and-true ("sweeping yard" instead of "large backyard").
Or you can hire a professional writer.  In marketing, strategies define the success rate of a business; for instance, car commercials that are broadcast on TV and the internet rarely talk about technical specifications – instead, they build a connection or a relationship with the lifestyle of the buyer. Real estate agents also need to use storytelling to be successful. They have to sell the property by presenting its story, rather than just talking about its specs. 
Don't forget to use descriptive language. Experts advise using meaningful, descriptive language to present property details online. Many listing agents prefer using fancy words that have no connection with the property. Buyers consider them false advertisements about low-value property. Therefore, accuracy and detail are important for better marketing. Describe the specific set of features and characteristics of the potential property with precise numbers to indicate details.
You should also follow the hook, story, and offer method. In order to write a compelling story listing, you should follow a story, hook and offer marketing techniques. First of all, you need to hook the potential buyer to the property with a catchy opening line. Following this, you produce a presentation that details the specifics of your property. Furthermore, you must have closing words to create a sense of urgency and show potential offers to grab the interest of prospective buyers. You can highlight pandemic-related facts. Buyers are looking for real estate with a number of amenities, such as multiple living spaces (ie. bedrooms) or garage space to store their vehicles. Adopting this new mindset can help you determine which elements should be emphasized when creating your listing. For example, having an intercom system or being near major highways makes it easier for commuters to access the property.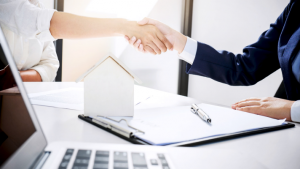 You should provide enhanced details. You need to take valuable time preparing listings. The listing needs to be detailed and relevant when buyers are looking for these properties. This will help buyers find what they want faster and with less effort. But if everything on your listing is written in brief form; it won't create a sense of transparency in your thoughts. It is better to create a solid first impression with your listing so that buyers can make up their minds to visit the proposed site.
And communicate what pictures cannot. A quality realtor will not only Photoshop properties but will also write the text. The highlighted information is not, however, the only written content that these professionals are able to add to their blogs. They can add important details like freeway access or proximity to entertainment and schools.
When adding a real estate listing to your personal real estate website, don't be afraid to adapt your description a little bit. If you make your product's descriptions more SEO-friendly, then you have a better chance of appearing in the Google search of a prospective buyer. Use the most keywords possible. People are more likely to search for a "detached three-bedroom home in Leslieville" than "3 bdrm Toronto east end." If a searcher is looking for something related to what you are selling, they should be able to find your site more easily. Search engine optimization is the process of improving your website so that it can be found when people search using words similar to yours. SEO is important and keywords or phrases describe your listing the best.
With Copymatic's SEO tools, it is easier to find these keywords and phrases that serve as an in-depth explanation of what you are selling. These are usually two to four words that give a clear description of the type of property and where in the United States it's located. It is used in titles, photos, URLs, C, and other marketing materials to optimize your listing for Google searches. Consider including relevant keywords in your listings in order to capture attention and attract more traffic to your business platform. Find the phrases that people search for new homes, then use these terms on your listing. The online keyword tools can help you understand these terminologies. Prepare your listing with the most useful information and add relevant keywords that could bring more visitors to your page. This trick also works with search engine optimization and can help you receive a top ranking on google search engine results.
Think like a buyer. Imagine what details are most likely to get buyers excited. What details they'd want to know first? Lead with those details. Highlight those details. If a condo has an amazing city skyline view, open with that. If a home has an incredible backyard pool, make sure that photo is one of the first you feature.
Make sure to promote your listings differently according to the kind of person that searches for them. The buyers are most interested in different aspects: young families will want to know about school districts and the accessibility of nearby public transport, whereas members of an empty nest will be more concerned with space and the traffic in the area. For example, to reach a younger potential buyer, you might want to focus on spotlighting the listing on your Instagram account and calling out details like how a second bedroom will be perfect for a new addition. For an older audience, Facebook might be better for campaign promotions; the second bedroom can be framed as a babysitting spot. 
You can also share a real estate listing on social media by posting it on your Instagram account and then typing in the description of the listing in the caption. To refresh your strategy and capture attention, have some fun with your formats. It's possible to highlight a listing's features on social media – for example, in an Instagram Reel. You can also turn a listing into a TikTok by detailing all its features in beautiful, branded real estate Instagram Stories. You can promote your properties through different social media platforms including Facebook, Instagram, Twitter, and Pinterest.
You should maintain a fun, friendly, and up-to-date social media profile for each of these platforms. When you have a listing to promote, you can use quality photos and videos accompanied by short descriptions. More so, ask your community to share the content and give some insightful tips to anyone who might want to buy or sell a property. It might just be a quick, simple post, but it can be an effective way to find a potential buyer. Social media has become an essential part of marketing in today's world. So why aren't you incorporating it into your daily operations? Maybe you're not sure how to use social media in a meaningful way. Have you
already set up an account? You may have Facebook, Twitter, or other avenues where you can share your thoughts, and you can use social media to grow your audience. A quick, simple post letting people know your listing exists, as well as a plea for any tips on someone who may be in the market, can be an effective way of finding that elusive client.
Reach out to your personal network. Escape your laptop and venture into the real world to promote your listing. The best way to grow your business is through personal connections. Start with people you know and then make the time to meet friends or family for coffee. Connect with them about your company's products and services and see if they have anyone in mind who would be interested. Leave no stone unturned. The more people you contact about your listing, the more likely you are to eventually find someone with a real interest in it. Connections are vital for the real estate business, and the connections you make with this listing could lead to opportunities in the near future. 
The same goes for past clients. You never know who may be on the hunt for a new place to call home — or knows someone who is. Now that you've helped people find a home, they may be an excellent source to connect with because they could know someone who is looking for a home. They can tell others how amazing of an agent you are and help get future clients to call you. Create a list of clients you've sold to in the past, and give each of them a call to see if they know someone who would be interested in your listing.
Another way you can take your traffic-generating machine to the next level is by including blog posts on your website. Blogs help to build trust and establish yourself as an industry expert. For high-end or notably unique (e.g. an old campground with cabins and a mess hall waiting for a visionary owner) listings, give them some extra love in their own dedicated blog post. Add lots of pictures to your listing and provide the full details. You may not have room to do this in the MLS, but you can describe it with words on the listing. Share the property's story, history, what makes it special – anything that might be enticing to a buyer.
Use your email subscriber list to send out newsletters. A newsletter is a great way to promote your latest list of stores! Use tools like Stripo, Crello, or PicMonkey to turn your listing photos and details into gorgeous newsletter designs, then plunk that into your newsletter platform of choice.
These stops usually don't get media attention, but many local lifestyle sites and blogs have a "listings of the week" section where they share unique homes for sale in the area. If you have a 'worthy listing', send an email to the editor, including information about the listing, photos, and a short, punchy write-up. If your listing is chosen by the editor, your audience of potential buyers grows a hundredfold.
That's it for this blog CORE Member. What do you think of the tips we've shared? Let us know in the comments below. And don't forget to subscribe to our channel, click the notification bell, and like this blog. If you think that we have delivered value please share this blog with one person. Just one share is enough for us, for you to show your appreciation for the commitment and hard work we all put together in creating this blog that teaches and helps you on your mission of building your own fortune. And you don't know that one share could go a long way. And keep in mind that no matter how many times you're going to read this blog, you won't see any results unless you take action. Goodbye and see you at the next one!
[mashshare]
---