Dress Professionally as a Real Estate Agent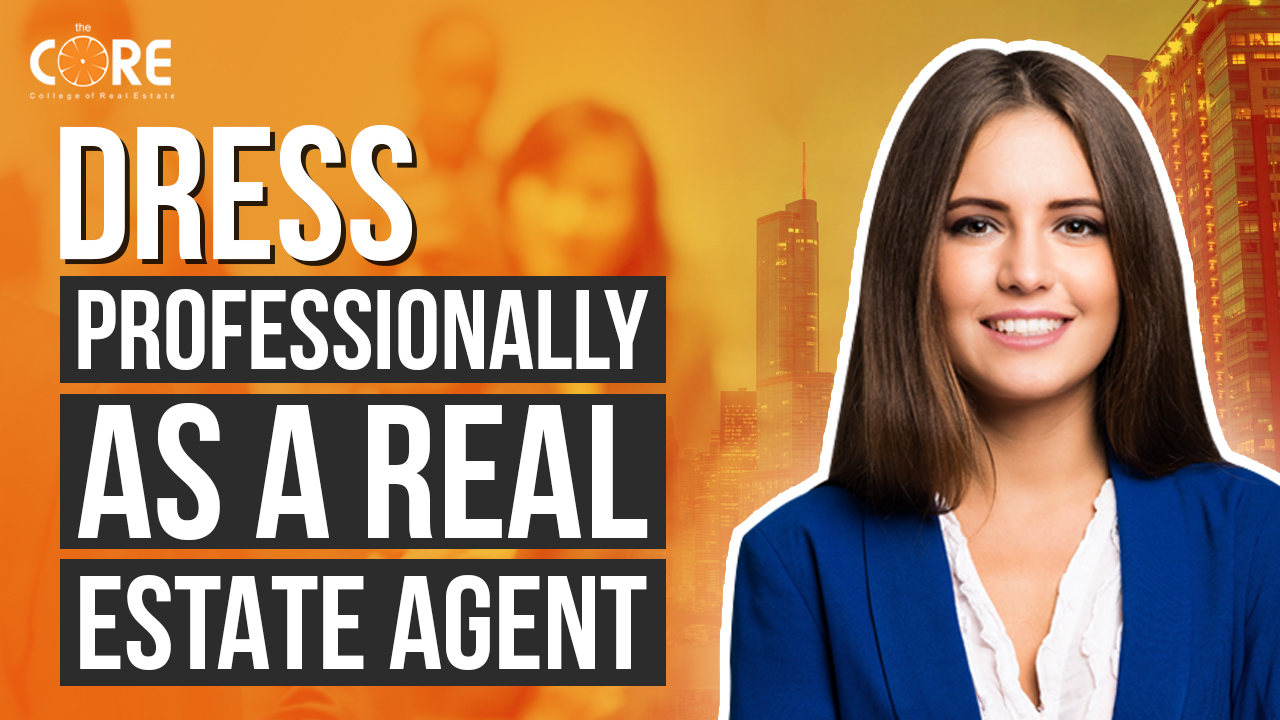 [mashshare]
You may be unsure of what to wear to work as you begin a new career as a real estate agent. Dressing appropriately is critical for nearly any job that requires interaction with clients in a professional setting. So, how should a real estate agent dress to look professional?
Luckily for you, core member, in this blog we will be talking about the tips on how to  dress professionally as a real estate agent. Let's begin this blog!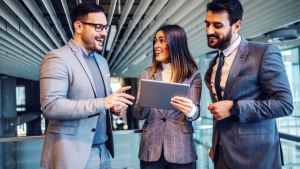 As a real estate agent, your primary responsibility is to assist clients in buying and selling homes, but you should also maintain a professional appearance while doing so. Just like when staging a home, how your real estate clients perceive you can be influenced by your appearance. Being a real estate agent, professional attire can communicate personality and expertise while also instilling confidence in your clients. Regardless of how much we wish it weren't so, your appearance and first impressions are important! Most clients, no matter how nice they are, will judge you based on your first impression, so take advantage of it and present yourself in the best light possible.
Where you work for a real estate job will determine what you wear. For example, if you work for a high-end realtor in a major city, the dress code will be more formal than if you work in a beach or ski resort area. Smaller towns and rural areas tend to have more relaxed dress codes as well. The most important thing is to dress appropriately for the market you're working in. It's also crucial to be yourself so that your customers feel at ease with you and your brand.
City vs. Rural locations. The way you dress may be heavily influenced by the industry in which you work. In comparison to working in a small rural town, where you may dress more casually, if you work in a larger metropolitan area, you'll want to dress in more formal business attire on a daily basis. Even if you have a light schedule, you'll need to dress the part if you work in a highly visible position in a larger city. Even if you aren't meeting with clients on a given day, your coworkers may be, and it's critical for the entire team to project a professional but conservative image.
Small towns and vacation destinations. More casual attire is appropriate for realtors working in smaller towns and vacation destinations. In some cases, dressing too "professionally" can be off-putting—you probably don't want to show farmland to clients while dressed in business attire. Here's a tip: if you're unsure how much to dress up, consult your new boss or other coworkers in the same area.
When you're showing properties or meeting with clients in the office, what should you wear? It depends, just as it does where you work.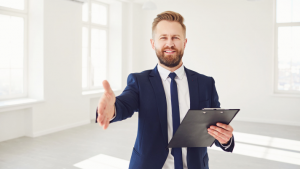 Business attire. If you're meeting clients or showing properties, you might want to dress professionally, but it depends on your job. Suit or dress slacks and jacket, button-down shirt, tie, dark socks, and dress shoes are all required for men. Check to see if your shirt is wrinkled and if your suit or slacks are pressed. Women should wear a skirt or pantsuit, conservative dress with a jacket, or dress skirt or slacks with a blouse or sweater, a coordinating jacket, hosiery, and closed-toe pumps. Keep your jewelry to a bare minimum and match your outfit.
Attire for business casual. If you're visiting a vacation resort area, you should dress more casually. If you're showing condos in a ski or beach town, for example, business casual or even casual attire is the norm. In a small rural town, khaki pants and a plain shirt might suffice—especially if you're showing farms, ranches, or wooded areas where business attire would be unsuitable. When you're at work, however, you may need to dress up a little more. Of course, you want to look neat even if you work in a small town, rural area, or resort area. Clean, well-matched, and in good condition business casual or casual clothing is required. Wearing clothing that needs to be repaired is never a good idea.
Clothes for real estate agents in the office. You can usually get away with wearing business casual attire if you're spending the day in the office doing paperwork and making follow-up calls. What should you wear to work? Dress slacks or chinos, button-down shirt, dressy polo shirt, jacket optional, dark socks, and dress shoes are all examples of business casual for men. Wearing skirt or dress slacks, a blouse, sweater, or a twin set is considered business casual for women. It's not necessary to wear a jacket, but hosiery and closed-toe pumps are always appropriate. Plain dress pants, a shirt or blouse, and flat shoes are acceptable in some situations.
What to avoid wearing? Unless you've been specifically told that jeans, sneakers, and sweatshirts are acceptable, or you're working in a casual environment, avoid wearing them. Even then, you should wait until you've been there for a while and noticed how prevalent that style of clothing is. It's almost always preferable to dress up rather than down in most situations.
When it comes to the dress code for real estate agents, there are no hard and fast rules. It can take a long time to figure out what is appropriate and develop your personal style, especially if you are new to the real estate business. Your employer may have a dress code that you must adhere to, but this is not always the case.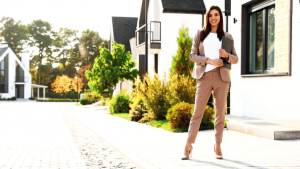 Even seasoned real estate agents may not have given their appearance much thought or may have discovered that fashion has moved away from the stricter real estate dress codes of the past. That's why we've put together a list of some basic guidelines to keep in mind when selecting your real estate agent attire.
The term "business casual" refers to a range of outfits. The ever-popular business casual dress code is the traditional day-to-day dress code for a real estate agent. Business casual isn't so much a dress code as it is a range of different looks. You want to project a professional image that isn't intimidating or unapproachable at the same time. In terms of the balance between business and casual, a real estate agent should lean toward casual, but there are some nuances to that decision.
What exactly does "business casual" clothing imply? It's difficult to say. Business casual is a style that falls somewhere between a full suit and a pair of jeans and a t-shirt. Instead of t-shirts, opt for button-up shirts or blouses, and skip the tie. Over a suit jacket or a more casual coat, opt for a blazer or sport coat. Slacks, dress pants, or chinos are preferable to jeans, shorts, or leggings. Instead of sneakers, choose classic shoe styles. If you don't want to wear high heels, keep your shoes closed toed.
Colors and patterns that are simple but effective. A business casual dress code typically favors muted tones, such as blues, browns, and grays, in terms of color. It's also acceptable these days to experiment with more vibrant colors but stay away from ones that are too loud or distracting. In terms of patterns, business casual calls for mostly solid colors, with a few basic stripes and simple patterns thrown in for good measure. Any patterns that are too aggressive or distracting should be avoided.
Consider your audience. When choosing an outfit for real estate agents, keep in mind the audience you want to work with and how different looks are perceived by clients. A more traditional real estate agent may be more comfortable with an older, more traditional client. Perhaps a more business-like dress code is in order. Suit jackets, dress shoes, and possibly a tie are all options. Sticking to a more casual dress code may give the impression that you are inexperienced and careless with your work.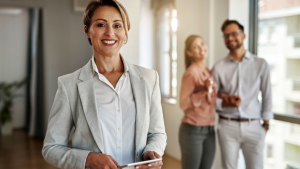 Younger clients, on the other hand, will be less receptive to more formal attire. They may feel more at ease with real estate agents who dress more casually rather than adhering to a strict business dress code. Younger people, especially those new to real estate, may be nervous about purchasing a home, so dressing casually will put them at ease and help you build a relationship. You may be able to ignore many of the traditional dress code rules and branch out with more progressive clients.
Consider your surroundings. Think about the environment you'll be in. Are you only showing one client a house? Consider how you'll dress for them. At an open house, will you be meeting multiple clients? Dress to show off your unique personality and stand out among the crowd. Is there a dress code for a real estate event you're attending? Make sure you stick to it. If you're hosting an open house at a top-of-the-line condo in the city versus a more modest showing for one client at a farmhouse in the country, you should dress differently. You don't want to stand out in the neighborhoods where you're trying to sell real estate.
Consider utility. Because a real estate agent's job is so dynamic, this tip is especially useful to keep in mind when you're doing showings. Your clothing must not only protect you from the elements, but it must also be functional. When showing a property, you may be inside or outside, you may have to get down low to look under things, and depending on the condition of the property, you may even get dust or dirt on you. That means you should have an easily removable jacket on hand during the colder months. Avoid wearing anything that could be considered revealing or that restricts your movement. Also, keep in mind that you'll be on your feet a lot as an agent, so a comfortable pair of shoes is essential.
Think about how well you fit in. 'Fit' is right there in the word when it comes to an outfit! Even if you have the best-made clothing, if it doesn't fit properly, it won't look good on you. You don't want to appear as if you're drowning in your shirt or that your collar is choking you. Choose clothing that flatters your body type, and get pieces tailored to your exact measurements if at all possible. A custom-made garment, while more expensive, will look better on you than anything else because it is tailored specifically for you. A bespoke or tailored suit can be a worthwhile investment if you attend events that require you to wear a suit on a regular basis and plan to do so for a long time.
Develop your own personal style. While it's important to think about your clients and the environment when selecting clothing, you'll be the one who has to wear it. Consider what you like and why you like it. Buy more of the things you like and get rid of the things that don't make you feel good. You should work to develop a wardrobe that gives you a professional appearance while also displaying your personality over time. Many of the best-dressed people can be identified solely by their outfits, which serve as an authentic extension of their personalities. And authenticity is the key word here: if you like what you're wearing, you'll not only feel better, but you'll exude an aura of genuine comfort and confidence that others will notice. Plus, the most important thing is to always be the best version of yourself.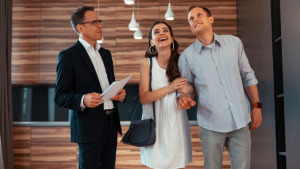 A word of caution to the more fashion-conscious among us: err on the side of business casual dressing. Feel free to express yourself with whatever wild patterns, bright colors, and dramatic silhouettes you want, but save them for your personal life outside of work. You can be the agent who always shows up in flip flops and a tank top but selling yourself without that professional appearance will be much more difficult. Being true to yourself while also being the professional version of yourself requires a delicate balance. Another thing to think about is incorporating your appearance into your brand. Feel free to make what you wear a part of your personal branding if it helps you express yourself. Use photos of yourself that show your clothing whenever possible. Remember that when you think of superman, for example, you're more likely to think of his iconic costume rather than his face. People remember real estate professionals with a strong sense of style, which helps to strengthen your personal brand.
Pay attention to the people around you. It's perfectly fine if you're not the most fashion-conscious person. One important thing to remember about fashion is that we dress to be noticed, so don't be shy about peering into other people's closets to see what they're wearing. When in doubt, seek advice from other real estate agents or business professionals on how to dress and how fashion trends are changing. Also, if you're unsure about your outfits, consult your friends, family, or coworkers. They can act as a second set of eyes, pointing out what is working and what needs to be changed in order to achieve a professional appearance.
Pay attention to the trends of the season. If you only have one good look that works for you, that's fantastic! It might be tempting to keep wearing it until it's completely worn out, but this is a bad look. If you wear the same outfit for every occasion all year, you might start to look more like an action figure of a realtor than a real person. Keeping seasonal trends in mind is one of the best ways to spice up your wardrobe. That means having a variety of styles and colors that are more or less seasonally appropriate. Sure, you can get away with classic light blues and grays all year for a standard business casual look but mixing it up can be fun. You can wear brighter colors and looser-fitting outfits in the summer. Warm layers and earthy tones are the order of the day in the winter and fall.
Accessories, your ensemble is made up of more than just clothes. Consider how your accessories can enhance or detract from your overall look. Jewelry is acceptable to wear, but keep in mind your surroundings and avoid overly flashy jewelry, such as an expensive watch, that may appear out of place. You may require a bag if you need to transport your belongings. If you show up in a suit and a backpack, you'll look completely out of place, not to mention your shirt will wrinkle. Consider investing in a professional leather bag in a neutral color. There's no reason to wear a hat unless it's a particularly cold season. If it's cold outside, go ahead and bundle up, but choose options that you can easily remove and stow away, revealing your professional look beneath.
For real estate agents, men and women have different styles. The world of fashion is blurring the lines between men's and women's fashion more than ever before. In general, a woman can get away with wearing the same fashion that used to be reserved for men and still appear fully professional. However, because many men's styles are cut for men, it may be more difficult to find clothing that fits your body type.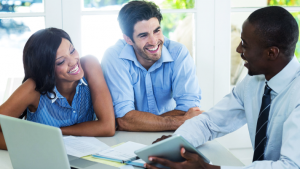 Most clients hire agents based on appearance and gut feeling, so appearance is extremely important. Men who wear freshly pressed shirts, a sharp-looking tie, and well-polished shoes are clearly professional. Too much jewelry, on the other hand, can cause people to become distracted in the wrong way. So keep it straightforward. For example, you could choose to wear only a watch and possibly one other piece of jewelry. Remember to keep your fingernails neatly trimmed and clean. Keeping up with current fashion trends is also a good idea. It also helps to have a fashionable hairstyle.
Men's fashion magazines such as esquire, gq, and vman can help male agents. Women's fashion trends can be kept up to date by consulting elle, harper's bazaar, and vogue. Marie Claire also has some helpful tips for female real estate agents, such as keeping manicures up to date and wearing conservative-length skirts. One of our mentors advised us to stay away from "glitz and glamor" and present yourself as the real you. Also, "dress for your market" by wearing clothing that is appropriate for the environment. Who goes to the beach in a suit and tie? For young, hip areas, a sharp blazer and dark-wash jeans work better. Finally, ensure that you "behave professionally." always act in a genuine, respectful manner, regardless of what you're wearing.
Driving a popularly desired car, in addition to professional attire, sends a strong message to potential clients. Every year, one broker in Washington state traded for a new jaguar sedan. She even let her agents drive wealthy buyers around posh neighborhoods for showings in the "jag" . The agents reported that seeing the car for the first time always made the potential buyer smile. To first-time visitors, the appearance of your office sends a strong message. Keep it organized and spotless and fill it with interesting curios and artwork. A disorganized agent has a cluttered desk.
Trying to blend in. Not every location, circumstance, or potential client necessitates fashionable, ultra-professional attire. Many seasoned real estate agents advise dressing in the same manner as potential clients. "It depends on the area of the country," 22 commenters said on a Zillow comment board when asked how real estate agents should dress. Most agents in resort communities, for example, dress in semi-casual attire. Jeans, western shirts, and cowboy boots are required when selling ranches. Dress shorts and dresses are appropriate for the hot summer weather. How you dress is determined by the type of property, weather, or client. Always have a change of clothes on hand in case the situation calls for it.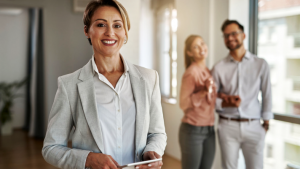 The dilemma of the young-looking agent. What you wear and what kind of cool car you drive have nothing to do with your professional appearance. Young agents say they are discriminated against because they appear "too young." For example, by wearing a blazer, shirt, and tie, a newly licensed 23-year-old who looks like he's still in high school overcame initial client perceptions. As a result, potential clients began to ask genuine real estate questions rather than how much experience he had.
Real estate agent professional appearance tips vary depending on the situation. The appropriate professional attire is determined by the type of property, the weather, and the clients. Dress conservatively or follow fashion trends when you need to look like a successful businessperson. Maintain a tidy and well-organized workspace. Maintain a fashionable haircut. When you can, try to match your client's tastes so that they can relate to you and trust you. Always keep in mind that a professional appearance leads to success.
You spent a lot of time in the pandemic wearing leggings and warm sweatshirts. Many women now suffer from "post-pandemic wardrobe anxiety," as described in style. Maintaining a professional appearance is important as the world begins to emerge from our quarantine cocoons of comfort clothes and Netflix. We never tell people what they can or cannot do, the fact is that real estate is a very client-facing industry. People judge you in milliseconds after meeting you, according to psychological studies conducted at Princeton, NYU , and Dartmouth. Here's what you should never ever wear to work as a realtor. There are also suggestions for what can be used to replace these realtor fashion no-nos. As a realtor, your appearance is an extension of your brand. As a result, it's critical. And so is your comfort—so go with what feels right to you rather than what's on the list.
First on the list is leggings. During the pandemic, leggings sales increased by 21% in the United States and 61% in the United Kingdom, according to the New York Times. Which is understandable considering how many of us wore leggings to zoom meetings, Netflix binges, and at-home workouts. Despite the fact that many leggings appear to be athleisure, many brands have realized that women prefer the comfort of button-free pants. That's why companies like spanx and sanctuary make leggings that aren't exactly leggings.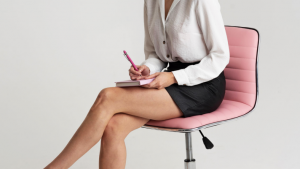 Second on the list is, mini skirt. Here's a rule that we generally apply to life: if we'd wear it to the club, we won't wear it to work. Miniskirts fall into this bucket. Plus, when showing homes, you might have to pick things up. Even Elle Woods from legally blonde got the memo when showing up in court.
The third one is sneakers. Yes, sneakers are comfy, versatile, and can be quite fashionable. But not wearing them can level up your whole outfit. And to be honest, you can find shoes that are ultra-comfy while still looking professional.
Fourth on the list is ripped jeans. Ripped jeans send out the "i just don't care" message that can be the kiss of death for your next deal, despite the unheard-of benefit of air conditioning your knees. In fact, many Manhattan brokerages with written dress codes prohibit ripped jeans or jeans in general. People can be turned off by a broker's attire, according to one of our mentors. If they appear to have just gotten out of bed or are too casual, you will not get the impression that they are well-dressed; you must be well-dressed.
Fifth on the list is anything that shows too much midriff. Yes, Mariah Carey rocks midriff-baring tanks to perfection. Being an agent, on the other hand, does not entail attending the Grammy awards. But let's hope that changes in the future.
Sixth on the list is workout gear. The whole "I'm so busy; I just ran here from my yoga class" look doesn't convey that you're a super-hard worker who prioritizes their career over their personal life. (Even if your downward dog is worthy of an Instagram post.) It demonstrates to clients that you are unable to plan ahead.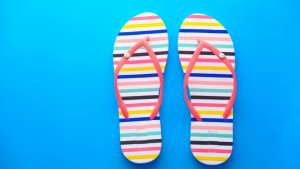 The seventh is, flip flops. Nobody wants to spend the entire day discussing mortgage rates and square footage with someone whose feet are constantly making flip-flop noises. Worse, consider the beach bum vibe you're sending your customers. This brings us to the next fashion faux pas.
The eighth on the list is, shorts! Yes, it's sweltering outside. Yes, three of the listings you're bringing your buyers to have bad air conditioning. But that's no reason to dress as if you're going to the beach.
The ninth on the list is, floppy hats or pretty much any hats that aren't warm! Looking like you just jumped out of the back of a smoke-filled VW bus at Coachella doesn't exactly exude real estate professional, does it? Don't worry, though. In the winter, pretty much all bets are off, and fashion takes a back seat to warmth.
Last but not the least, anything see-through! A sheer dress does not inspire the confident, professional look that you need to win hearts and minds and close deals with most clients.
Here's some advice from one of our mentors! "You should never wear something ill-fitting, too tight, or uncomfortable looking. The last thing you want is to have a client thinking you're fidgeting and squirming because you're being untruthful or trying to hustle a deal!", "don't wear anything too sexy, meaning nothing skin-tight and no thigh-high slits. If you want to be on the safe side, these are some tried-and-true business casual staples: slacks, blouses, pencil skirts, button-downs, flats (closed-toe) or heels, and tailored dresses."
Fashion is an ever-evolving field with a great deal of nuance in terms of different looks and purposes. Don't worry if you don't get it right the first time; paying attention to your appearance will help you nail those first impressions and stand out as a real estate professional, which will benefit your career.
That's it for this blog core member, remember to subscribe to our channel and if you feel like we've delivered value please share this blog with one person. That's right just one person as a token of your appreciation for the hard work we put into making content that educates and helps you on your mission of building your own fortune.  Remember you can read blog after blog, but it isn't until you actually take action that you'll start to see results.  See you soon!
[mashshare]
---