Editing Real Estate Photos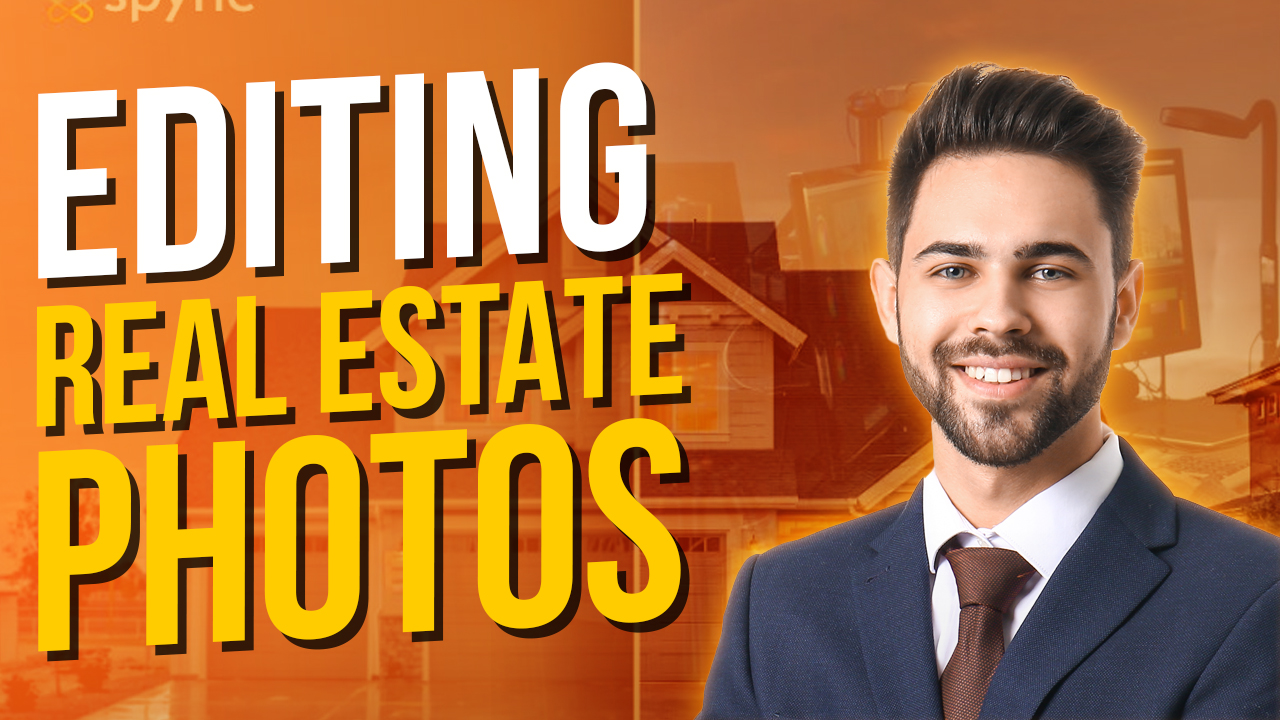 [mashshare]
In order to make your house or property desirable for a buyer, you are going to need amazing high quality photographs. These photos should capture the essence of what a buyer will experience when they walk into your home, room by room. Dull, flat images might be the first hurdle your clients encounter and never make it past. But don't despair, you don't need to be a professional photographer to take pro images – thanks to tools like Photoshop and Lightroom, average photos can come to life in the edit. So if you want to know more about this, this blog is for you.
For today's blog, exclusive for our Core members, we will be talking about the top real estate editing techniques. It's no secret. Producing stunning property images takes work. Yes, even with the right skill set and equipment, you might still not get the kind of shots that you envision. Maybe colors seem a bit off or maybe the sun position in the sky is wrong. Whatever the case may be, what you see in your creative imagination isn't always what you get in reality.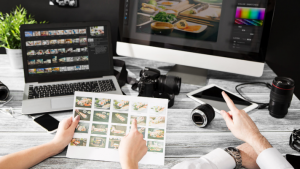 It's not really about having the coolest gadgets available or tricks. Post-processing (filtering images and editing them with other software) can take a long time. It's important to the final appearance of the image that someone spends a lot of time doing this for it to be successful in showing off the property. There are different techniques that photographers can use and do to retouch properties and make them look great in photos. Here are some of the basic and most commonly used editing techniques for real estate photography.
Color correction is one of the basic steps in real estate photo editing. You can use Lightroom or Photoshop to edit colors. However, it's easier and quicker with Lightroom. With the eyedropper tool, you can click anywhere on a neutral area and correct colors throughout the image. Using different methods depending on the photo, you can adjust saturation, hue, and tint for a more realistic image. Color correction is probably the most basic and essential step in real estate photo editing.
Lightroom is a more popular choice for photo editors because of its intuitive design. A simple click with the eyedropper tool on a neutral area will correct the color in an entire image. When it comes to photography, you may need to adjust saturation, hue, and tint in order to have a more well-rounded picture. Color Correction is the backbone and foundation of image enhancement.
Adjusting the color, contrast, sharpness, and tone may seem like something very inconsequential, but it's a big deal here. With just a few mouse clicks, an otherwise drab and boring image can be made instantly stunning and attractive. With only a few retouching actions, a mediocre photograph can be made amazing. This is step one in making your pictures look remarkable and professional.
All real estate and architectural photography have straight horizontal and vertical lines that don't converge because the lines are distorted. Camera lens curvature is one of the many factors that can distort these parallel lines including the shape of the room. When shooting real estate, you need to be extra careful with your lines. Straightness is crucial and any angle can be fixed with Photoshop.
To fix the lines in Adobe's photo-editing software, you can use the Free Transform command that allows you to fix unaligned lines by using the corner of the image opposite from where the lines are slanted as a point of reference. An editing technique that is used to correct this misalignment and distortion is called a perspective correction. To make the photo more natural, the distorted lines are aligned with the image's frame. This also allows viewers to focus on the main points of interest in the picture since the image now appears to be more compact and cohesive.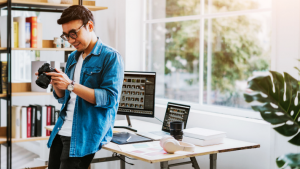 Have you ever seen a den that looks a little cold and dull? Or maybe a patch of barren earth beside a property? If you want to make your den, or any other space, seem more lively and appealing, photo manipulation can do wonders. You'll only need to create some interest in a patch of barren earth with this powerful tool. A competent photo editor can add some flames to the fireplace to make the photo look warmer and golden.
The same real estate photo editing professional can add vibrant green grass to cover that patch, making it look like a beautiful lawn. "Getting the lighting right in your real estate images is crucial as potential buyers will be put off properties with bad light," says Henry Escobar, a photography expert at Paper Fellows and Boomessays. "Yet shooting interiors, with artificial lighting and mirrors awkwardly reflecting light can create unpleasant dark spots as well as over-exposure. You can adjust all these levels in Lightroom by adjusting shadows and highlights, creating perfectly balanced photos." There may be problems with unbalanced lighting when you photograph interiors or exteriors.
Adjust shadows, highlights, and whites in Lightroom to fix this. Drag the Shadows bar to the right to open up the shadows a little bit. Make sure that this is safe middle ground. If your images seem too dark or too light, adjust the slider to the left or right to eliminate a drastic shift in tones. To make small corrections, hold down the Alt key on PC or Option key on Mac and move the sliders until you see specks of white and black on your image. 
Do you wish some items in your photos weren't there? You can use Graphic design to remove them. This usually is an unwanted item on the counter like a frying pan, under the table such as power cord, or a car that blocks the view of something beautiful like a garden. Whatever it is, it can be digitally removed, after a little blending and retouching to fill in the spot where the item was previously located.
You can't always declutter a room before you shoot it, especially if it's still being lived in! Potential buyers need to see a blank canvas onto which they can project their lives and dreams, so decluttering rooms through Photoshop magic is a great skill to have. The clone tool in Photoshop can paint over objects, cleaning up your images in seconds. You can remove objects in your photo with the clone stamp tool on Photoshop. Simply, check the source area and use the paint option to remove anything unwanted from the specific area.
Adjusting the clarity of your images can sharpen them up, bringing out-of-focus images into professional sharpness. On Lightroom, just push the clarity to the right in order to polish the photo. With adjusting the clarity, you might want to adjust the blacks as well in order to add depth and crisper look to the image. However, don't go too far or you'll create an artificial sharpness that damages your image resolution.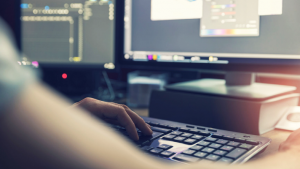 With HDR or High Dynamic Range, many photographers are able to create photos with a greater dynamic range of luminosity. To make an HDR photograph, you need to take a number of different photos in different lighting situations. Then, these images can be merged together and lose their flat look when they are merged. With a favorite tool of many photographers, HDR, you can bring richness to your images by balancing shadows and highlights. Manufacturers are including HDR mode in more and more cameras now and if they aren't, you can shoot with slightly different angles to merge images together.
For the most vibrant colors, real estate photographers should shoot on a sunny day. Overcast skies or stormy skies will make even the most attractive properties seem dull and dreary. To make a photo look better, skilled editors can replace gray skies with sunny summer skies. With all the right image enhancements, properties will look like they were shot during a fine summer day.
The client can also choose a pretty sunrise or sunset for the sky. "When shooting exterior shots of your properties, it helps to pick a sunny day, as warm light and a blue sky bring out the best in any property," says Lewis Perez, a writer at Lia Help and OXEssays. "But when the weather doesn't play ball, you can turn to Photoshop." Bring up the shadows and add a splash of colour to your skies, to give your viewers an injection of blue-sky thinking!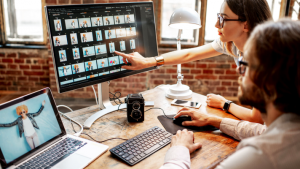 These days, clients want to be able to explore properties in a variety of contexts before purchasing. This means that developers have to take more photos than ever, which can lead to many hours of uploading and uploading the photos. Photoshop can relieve the burden of this process by automating exports of images into batches, allowing you to resize and change file types on multiple images at once. This saves time and allows you to focus on the client. The image processor allows you to resize your photos in batches.
This is a time-saving tool, especially if you are working on hundreds of images that will have to be used in different mediums. To use the image processor tool, select File menu and click on Image Processor. Choose Folder in the dialog box and save in the same location. Choose JPEG as file type and click on Resize to fit and put in your desired dimensions. Make sure that you include the ICC profile and click Run.
The ultimate photo editing technique for real estate photos is to make the images feel more natural to make them believable. You should err on the natural side every time you edit an image to ensure that it doesn't look too artificial. Editing real estate photos is about creating the most compelling view of a property in order to sell it, and this means relying on a mix of techniques to produce believable, compelling results. In order to sell property, you need to create an attractive environment where clients can imagine themselves living. Photos help with this process and programs like Adobe Photoshop and Lightroom have plenty of options for editing photos so they look as realistic as possible. Just play around a little bit and you'll see that there are endless possibilities!
That's it for this blog CORE Member. What do you think of the tips we've shared? Let us know in the comments below. And don't forget to subscribe to our channel, click the notification bell, and like this blog. If you think that we have delivered value please share this blog with one person. Just one share is enough for us, for you to show your appreciation for the commitment and hard work we all put together in creating this blog that teaches and helps you on your mission of building your own fortune. And you don't know that one share could go a long way. And keep in mind that no matter how many times you're going to read this blog, you won't see any results unless you take action. Goodbye and see you at the next one!
#CollegeOfRealEstate #realestate #photoediting
[mashshare]
---