10 Ways on How to Stage Your Home for a Quick Sale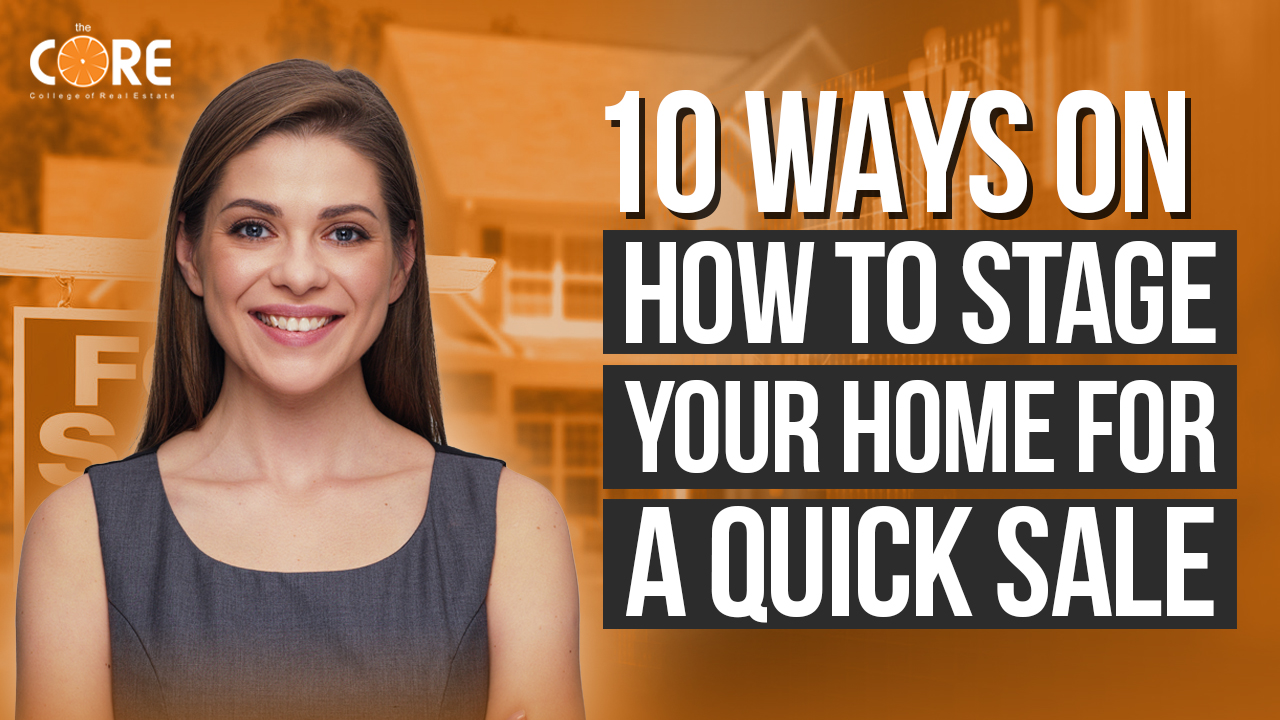 [mashshare]
Tailoring a home for sale is vastly different from designing your own living space. Your decor must appeal to the tastes of hundreds of prospective buyers, and your design should match that of a show home. Sellers who get this challenge right sell their house more quickly, hence more money spent.
HomeLight's recent review of agent insights reports showed that nearly 83% of agents agree that staged homes sell faster and by 31%, buyers will increase their offer on a home 1-5% because the home was staged. According to the National Association of Realtors, staging a home makes it sell faster.
Luckily for you, CORE Member, we've produced a list of the ten best ways on how to stage your home for a quick sale. Remember, that while the first step is completing any of these amazing courses, the second and possibly more important step is taking action even if it's imperfect action.
When real estate agents mention "staging," this refers to a method of preparing a home for sale in the real estate marketplace. To stage means to display any property's best assets and to increase potential buyers' interest in buying it.
So what is a good staging?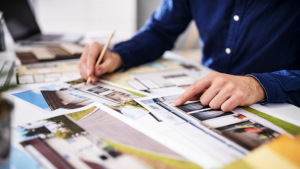 Good staging can be described as "a way of arranging the furnishings in a home or building to present it at its best and best highlight the property's features," according to Gordon Roberts, who is an estate agent for Sotheby's International Realty. "The object of staging is to flatter the property but not be too obvious about it, like being dressed without drawing particular attention to what you're wearing." 
The owner of a Fort Worth home organizing firm, Melinda Massie, said that staging helps buyers imagine themselves living in the house and shows off its good features, hides its bad features or weird spaces, creates an emotional tone for the home and makes it look significantly better in photos.
Because staging is not always available when buying a home, you should consider professional staging services to make your property attractive to buyers and attractive to showings.
The team spoke with a real estate agent, Sarah Leonard, who sells homes 51% faster than the average agent in Schaumburg. They also called two professional stagers to create tips that help everyone prepare their home for sale.
Start designing your home with these ways:
Get Rid of the Clutter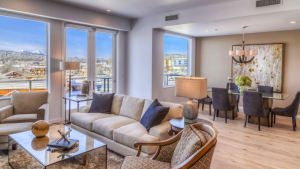 Decluttering is the first job you should tackle when staging a home. Clutter will pull the buyer's eyes elsewhere – and not towards the most important rooms in your house. The structure of a room will look untidy and smaller if you have too much clutter, too.
In today's society, we are misplacing daily life possessions. They pile up faster than they can be shipped to 'treasure planes' around the world, like those of the wealthy who don't pay attention to their belongings. Luckily, Mr. Willcocks recommends that by getting rid of our stuff, we'll not just declutter our home but also feel better about it for future potential buyers. First, spend time going through your belongings and tossing all unnecessary objects in a bag or bin out of vision, and dust off your things for sale to revamp the room as if you don't own it.
'Try to free up as much surface space as you can on shelves, coffee tables and especially in the kitchen. Wicker or rope baskets are excellent for throwing items that you need but don't necessarily want to see. Storage units and containers are another great option should you require more space.'
Even the most mundane of tasks – like organizing a house – can be achieved. Children's interests will inevitably shift, and that means your rooms need to too. Try creatively relocating Barbie paraphernalia in a closet and keep the fridge cleared off for potential buyers. These are just some ways you may be able to get your kids' help without a total makeover happening!
Make it look professionally cleaned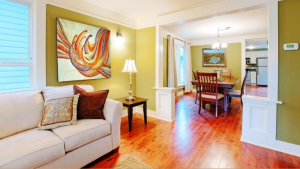 Homebuyers will see your home as well cared for, which can help win trust from the homeowners. Clean homes feel great and show up a lot better next to similarly priced places. This is important for buyers despite their feelings about renovations because it helps them imagine themselves living there.
If you've got a lot of clutter, consider getting your home professionally cleaned. Chas Campbell tells us that "a professional cleaning can often hedge against replacement unless something is damaged" since other homeowners won't have to offer you an unfair deal on a new house if they find out you already had one done. If you manage to fix the damage yourself from water leaks, burns, or other mishaps, "small repairs" like these can "stave off counter offers for defects."
Susan Orth said that in Santa Fe, it is crucial to consider the exterior and interior of a home when selling. For example, buyers often make their decision within a few minutes of walking through or seeing the property. She advised adding or upgrading landscaping, exterior lighting, planting flowers near the door, trimming shrubs and removing dead plants.
Make sure you have a home that is clutter and odor-free, neat and tidy. Buyers may be used to the slightly pungent smell of your pets but it will reflect negatively as it can be interpreted as unclean." According to Alex Willcocks, this will give an impression on potential buyers.
With any issue, you need to take into account the particulars of your area. "In the Santa Fe area, many trees have been lost in recent years due to drought and the bark beetle," Orth said. "In many parts of the country it is almost standard practice to remove dead pinion pines."
Focus on Fresh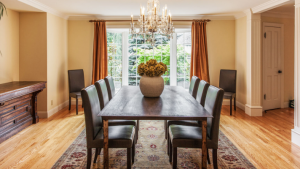 A few potted plants can give your home a clean, cozy appearance. If you have a lot of plants but don't want them to be in overwhelming locations (unless you have a greenhouse) then plant them strategically. Dead and dying plants are not good for the aesthetic health of your home.
With so many buyer decision making processes relying on the property's exterior, any renovations that can be made to a property's entrance will have a favorable effect on their decision. Alex Willcocks of Burbeck Interiors says "The buyer's decision-making process doesn't start once they are in the property," while noting that "any remedial work or improvement that can be made to the entrance of the property will pay dividends."
There are a few simple ways you can maintain the curb appeal of your home or front yard investment. It's also important to brush up windows, especially that big one at the front. Summer is upon us, so try and brighten things up with some new flowers or a hanging basket to give them some added color and fragrance.
Another way to make your home smell fresh is to get rid of odors. The smell of pets, kids, last night's dinner, a damp bathroom, and many other conditions can make your home smell. Inexpensive tricks for preventing and relieving odors include baking cinnamon-coated apples or cookies in the oven (be careful not to burn them), or burning vanilla-scented candles.
To remove any bad smells in your sink, fill it with lemon juice and grind it up in the garbage disposal. If possible, avoid using air fresheners as these may cause an allergic reaction or make asthma worse for those with sensitive respiratory systems. Rather than smoking inside, try to smoke outdoors when possible so you can at least rid the environment of cigarette smoke. It is also important to take out the trash to control odor pollution.
Refresh Rooms Through Neutral Colors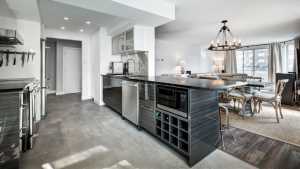 When it comes to interior design, it's worth reconsidering color schemes that have been traditionally used, such as the use of different shades.  A fresh coat of paint is a small way to brighten a room and make an overall appearance bigger without purchasing new furniture, says Anne Carr of Los Angeles-based Anne Carr Design.
And while you might love bright or dark colors, bold wallpaper, or neutrals, often it's best to use what's safe to focus on making a sale by using neutral colors. That doesn't mean that all white, neutrals and pastels can create a space-enhancing vibe that buyers will love..
When thinking about painting your walls, remember that there can be a huge range of tastes on the part of your potential buyers, and don't risk turning off conservative buyers with wildly bright colors.
Keep in mind that your room will benefit if you use a light color such as yellow or beige. The main color is only one small part of the solution. If a room doesn't get enough sunlight, then warm colors will make it appear as if daylight is present.
"Dark colors will often make the room look smaller and it may be harder for the buyer to imagine their furniture and personal property in that space," Orth said, and Campell said he advises sellers to "neutralize and brighten"
Natural light is often in short supply in Manhattan and for many buyers it is critical as to whether or not they'll even look at a space," Wildowsky said. "A fresh coat of off-white paint improves the entrance to the apartment when you walk in. We have an apartment on the market now that originally had dark blue walls. With a wall of windows facing only one direction, the blue darkened the far end of the space, which is where the entrance to the apartment is located." This easy home decorating tip will help sell your house for more money.
All three of our sources agreed that neutral colors work better in a home.
Given they want to conceptualize their colors and furnishings, representatives said a "blank canvas" is the best option to get an illustration of potential new paint colors. They said it is best not to change colors or repurpose furniture in order to please one customer over another.
When you're considering the exterior paint job for your home, don't neglect to consider color. Make sure the color in your project goes with the style of the home and is not overwhelming.
Don't Over Decorate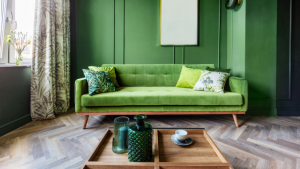 If your decorating style is too dominant, buyers can't picture their own home with the same style. Keep your home makeover balance between your design and that of the buyer's tastes.
"Many people struggle to see beyond the design and decor when looking for apartments," Wildowsky said. "Some apartments are so 'done' that it is impossible to disguise the look, and if the design doesn't suit the buyer's tastes, it is often very hard to imagine it different."
Orth has seen many over-decorated homes, and notes that the style of the decor should match the style of the home. "It is important that the decor reflects the character and style of the home," she says. "Store some art, paint and add patches to walls, remove personal property that does not enhance your home's style." This is a way to attract buyers, who may be willing to pay more for your house.
If you know you're going to be selling your home in a year or less, you may do better to hire a decorator to re-do the home with an eye towards its marketability than to make it exactly the way you'd like it. This is true even though "beautiful design is a sign of quality and value". The design should be influenced by the different goal of "selling the place" which can be completely different from living there comfortably—so keep it open, minimal and bright."
Not only can your home be "sold" faster but it will also benefit from being tidied up and painted in a neutral color. The experts offered staging, which is a type of art that can make the space feel open and expansive so it will sell for a higher value.
When in Doubt: Accessorize
Staging a house involves giving your home the fresh look you want, but it may also mean removing items that are no longer necessary.
If you want someone to buy a home from you, then you need to spruce up your decor and put the spaces in good condition. It's important to remove stained pieces of furniture and carpets that might give potential buyers an impression that the property is unfinished or poorly kept.
It is cheaper to reupholster furniture than it may seem. Buying a moderately priced fabric and following some general guidelines are all that is needed to get started. You just have to choose the right style of fabric.
If the physical space is limiting, consider remodeling the kitchen by painting the cabinet fronts. This can give the kitchen a facelift instantly with little to no investment.
It may seem mundane, but your home should have the same kind of balance as a healthy body. Pillows are a great way to add depth to your décor and make sure that you're getting all the elements of your design on one stage. Consider placing a coffee table book with a candle or an interesting decorative piece.
Orth suggests replacing the doorknob, washing down the front door, and having the windows professionally cleaned because these small improvements could increase the value of your home for a potential buyer. Moreover, you can add some color to your house by setting a pot of bright flowers at the entrance.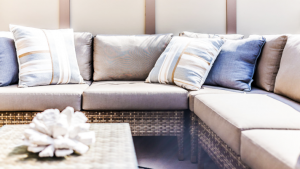 For Wildowsky, who was recently selling a condo for a college student, the most low-key solution to adding touches of charm to the place was turning on some lamps and putting in fresh flowers. The problem she encountered was that "cleaning was clearly not his highest priority."
"I wanted the seller to scrub the house from top to bottom, which is what he did," she said. "And I wanted to use some of my money left over from moving and buying inexpensive things like a lap blanket, candles, new bed spread, and pillow shams."
'We often focus on making changes that seem big due to our limited control such as new bed linen or towels,' offered Willcocks. 'Small changes like scenting a room with scented oil and lighting candles are often underrated but can also create lasting emotion and attention in your home.'
"The first open house was held the day after the cleaning. Ten people came through that day. We received two offers immediately and accepted an offer very close to asking price two days later."
The seller wound up keeping the throw pillows and other items, despite their best efforts there was nothing Wildowsky could do. The home decorating tips and decorating ideas helped prop up the apartment and make it seem much more user-friendly to buyers; ultimately it may have even helped sell it quicker, in which case they'd wind up getting an excellent price for the apartment.
Modernize Key Lighting Fixtures
Scheer recommends replacement fixtures to update the house's style from being dated and 1970s. These fixtures, such as chandeliers and wall sconces, reflect today's fashion trends for lights, bringing in elegance and modern vibes.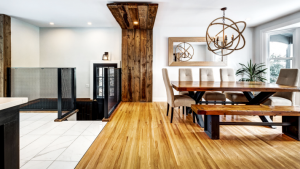 While splurging on clearances will have a bigger impact, even affordable lights from places like Wayfair and AllModern can make a dramatic impact. A great thing about today's brass fixtures is that it is far softer, more dull-looking, and warmer than the '80s version.
When adding a floor lamp, it is important to let the light hit both sides of the room. This makes for a brighter appearance, which creates a more spacious-feeling space.
Scheer warns that realtors often turn every light on when they show properties, making it easy to see anything matching.
You can replace mismatched light bulbs to match the same color tone. For most homes, softer, warm toned light bulbs often look best. However, cooler toned lightbulbs may suit a home with a modern design or with a cooler interior color palette of blues and grays.
Format your walls to achieve a "finished" look
"We always tell people to leave everything off of the walls. Across person, decor looks very nice and spruces up a place," shares Rochelle Knapp. The less wall decor, the less there is to distract buyers from your home's assets like high ceilings, fireplace, or custom moldings.
For a less expensive look that still opens up the room, we recommend adding light, neutral curtains to the living room, dining room, and primary bedroom. To elongate your windows and add depth in your rooms, hang floor length curtains from a high hanging curtain rod. White is one of the most flattering colors for rooms because it allows the light in and gives the room a spacious feel without appearing too cluttered.
Flooring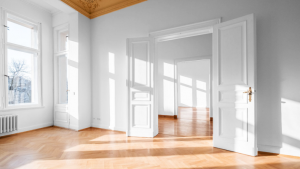 People do not want to live in homes with dirty, stained carpet. Especially if it was the homeowner who made it that way. Linoleum is outdated, and it makes a home look cheap. Hardwood floors are on trend now, and they give a home an elegant look. They are low maintenance, provide great value long-term (i.e., price-wise), and appeal to almost everyone since they can be carpeted over by the buyer and preserved for the next owner.
If you're going to install hardwood floors, your living room, dining room and kitchen are the best places to start. For kitchens and bathrooms, avoid cheaper options like ceramic tile or vinyl tile as they don't look nearly as good and will cost more in the long run.
Define your Room
It is important to make sure each room has a specific purpose and implement that design in the spaces within the rooms. The buyer will see how they can use the allotment of space to maximize the home. Once you have an attic, set it up as an office. Once you have a finished basement, use it for entertainment purposes. Once your junk room becomes a guest bedroom.
The important thing is for buyers to see how well-utilized each room in the home is. With this in mind, buyers should look at alcoves, dining spaces, window seats, and other areas as seen as usable space.
That's it for this blog CORE Member, remember to subscribe to our channel and if you feel like we've delivered value please share this blog with ONE person. That's right just one person as a token of your appreciation for the hard work we put into making content that educates and helps you on your mission of building your own fortune. Remember you can read blogs after blogs, but it isn't until you actually take action that you'll start to see results. See you soon!
[mashshare]
---